NEW eBOOK DESCRIBES HOW TO TRANSITION FROM BEING A STUDENT INTO THE BUSINESS WORLD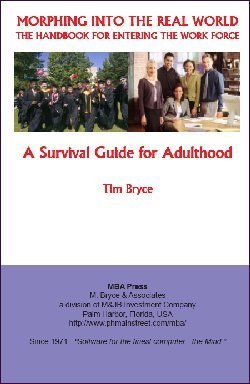 PALM HARBOR, FLORIDA - MBA Press has announced the release of a new eBook version of their popular book, ""MORPHING INTO THE REAL WORLD - A Handbook for Entering the Work Force" which is a survival guide for young people as they transition into adult life. The book includes chapters to describe how a young person should organize themselves, how to adapt to the corporate culture, develop their career, and improve themselves professionally and socially. Basically, its 208 pages of good sound advice to jump start the young person into the work force.
The new eBook version is available as a PDF file requiring the use of the popular Adobe Reader and sells for $10. The original printed version of the book is available for $25. Both versionS make perfect graduation gifts.
"The abundance of information the book provides is a good start for anyone about to take the first step into the real world. Though the concept of adulthood may seem intimidating, it's comforting to know that someone has at least written a guidebook for it."
- Miami Hurricane (review)
"Every young person entering the workplace for the first time should be given a copy of this book."
- Bill Petrey (review)
The book is available exclusively through MBA Press at:
http://www.phmainstreet.com/mba/mbapress.htm
MBA PRESS
M. Bryce & Associates
a division of M&JB Investment Company
P.O. Box 1637
Palm Harbor, FL 34682-1637
Tel: 727/786-4567
timb001@phmainstreet.com
Email M. Bryce & Associates