Napoleon Indoor Waterfalls Technology & Home Waterfalls Collection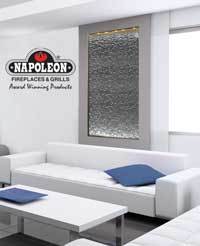 Crittenden Kentucky, March 13, 2010 - Accentuate your home or business with the sights and sounds of soothing, running water. New Napoleon®
Waterfalls
are the perfect tranquil accent for any setting - a living work of art for your home or office!
"Most people are not aware that while indoor waterfalls are a beautiful decorative accent, they also have health benefits. An indoor waterfall naturally attracts airborne particles providing you with cleaner, humidified air," says Ted Scott, National Sales Manager, for Napoleon® Waterfalls.
An indoor waterfall acts as a humidifier, maintaining humidity levels that lower the transmission rate of disease causing bacteria and reduce static and dust build up.
Napoleon® quality engineered indoor waterfalls come in a variety of formats to suit any environment. The built-in waterfall units come with low voltage recessed lighting that not only accent the water feature but also act as a NIGHT LIGHT™.
Please visit our website to see our
indoor waterfall installation gallery
for creative ideas for putting the soothing tranquility of falling water into your home.
About Napoleon® Waterfalls:
Napoleon® is North America's largest privately owned manufacturer of quality indoor waterfalls, wood, pellet and
gas fireplaces
, inserts and stoves, gourmet grills, and outdoor living products.
Napoleon's commitment to producing
fireplaces
,
grills
and indoor waterfalls combined with honest, reliable service has proven to be a successful framework to ensuring the continued growth of the company. Napoleon® is an ISO9001 ‐ 2008 certified company and operates with over half a million square feet of manufacturing space and over 500 employees with US headquarters in Crittenden, Kentucky.
We take pride in our Indoor Waterfalls dealer network stretching across North America – contact a Napoleon® Authorized Dealer in your area to see the difference Napoleon® Quality makes.
Email Napoleon® Waterfalls