Home Wallpaper - From the Runways to Your Walls Comes Graham & Brown's Latest Wallpaper Collection, Spirit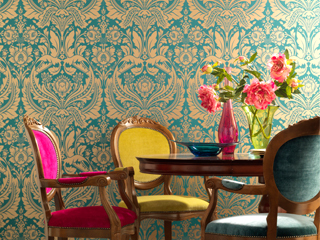 March 2010 – Just in time for spring, designer wallpaper company, Graham & Brown launches their latest
home wallpaper
collection, Spirit, straight from their very own design studio.
Inspired by the latest spring/summer trends from the international fashion runways, Spirit is a beautiful, bohemian collection of romantic florals, bold stripes and large scale damasks.
This
modern wallpaper
collection is a chic take on country bliss, blending big blousy blooms with elegant sprigs and delicate fans. Its water-color palette combined with metallic detail and iridescent layering adds a touch of glamour to the collection.
Vitality – This detailed climbing sprig design features gloss and metallic overlays for a striking contemporary look.
Vitality Floral – Delicate cherry-blossom floral details in subtle water-color effects
Spirit – This over-sized, iridescent, floral trail has a romantic feminine influence.
Desire – A modern-take on the classic damask in bold fashion-led colors.
Charm – This
designer wallpaper
has a simple floral-fan trail that mixes tonal metallic accents and modern infill design.
Enthrall – A hand-painted floral trail with soft metallic highlights
Adore – A Japanese-inspired large-scale floral panel, designed by the Graham & Brown "New Designers Award" winner Melissa Selmin.
Sparkle – Shimmering starburst designs in soft metallic tones.
Figaro – An ever popular bold-stripe design, re-colored in the latest runway tones for an instant fashion look.
About:
Graham & Brown is a widely acclaimed wall decoration company involved in offering creative solutions for decorating homes, offices, restaurants, hotels, etc. Headquartered in Blackburn, England, it has offices in countries all over the world, from the US, Canada, Russia, and Holland to France, Poland, and China. To learn more about Graham & Brown and its services, visit
http://www.grahambrown.com/us