Latest OSHA Fines Spark Interest in Portable Industrial Vacuum Cleaners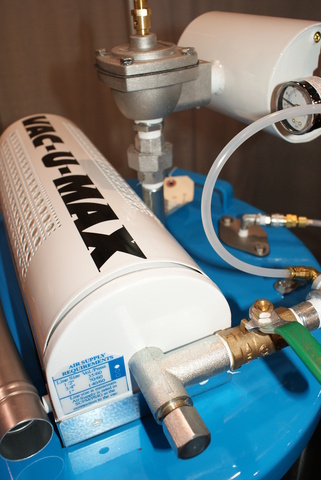 BELLEVILLE, NJ—With OSHA leveling an average of two fines or violations per month just this year in its crackdown of combustible dust hazards, VAC-U-MAX, pioneer in vacuum technology, is seeing a "marked increase in interest for portable
industrial vacuum cleaners
to control dust in Class II Div 2 environments," says David Kennedy, GM of VAC-U-MAX's vacuum cleaning division.
One of the latest citations issued by OSHA included "the use of an unapproved spark-producing shop vacuum in a Class II, Division 2 location," according to a news release issued on March 9, 2010 on the organization's website.
With an abundance of news about OSHA's National Emphasis Program on Combustible Dust, it seems surprising that companies are still using inappropriate methods to vacuum dust.
"Part of this may be due to misconceptions about
industrial vacuum cleaners
and sheer oversight when reviewing production processes," says Kennedy. "When a process has been in place for decades, it becomes somewhat transparent and the standard 'if it ain't broke, don't fix it' often prevails."
In addition to using inappropriate vacuums for dust, many manufacturers are still using compressed air or brooms and shovels to clean surface dust and debris causing it to become airborne, respirable and ignitable.
Studies, as modeled in OSHA's Dust Control Report, have confirmed drastic increases in the number of airborne particles when sweeping surface dust, and even higher increases when using compressed air to remove surface dust and debris. Nearly all regulatory agencies deter the use of brooms and compressed air to control surface dust and recommend the use of industrial vacuum cleaners that remove surface dust from the environment.
"Using industrial vacuums isn't new to the industrial manufacturers," says Kennedy, "but many companies have tried in the past to use shop type vacuums to clean up dust and debris, and have found them inadequate under the rigorous demands in the manufacturing industry."
Shop type vacuums designed for home or commercial use, aren't typically designed for use in industrial settings, let alone a Class II Div 2 environments.
To assist companies in understanding OSHA requirements, VAC-U-MAX developed a website,
www.combustibledustvacs.com
, dedicated to combustible dust hazards, containing several OSHA documents referencing hazards, compliance and appropriate vacuums for dust.
When searching for
Industrial shop vacuums
, users may assume they need a custom, one-of-a-kind solution when their application actually calls for a pre-engineered product. Most applications require standard equipment that offers option capabilities to best fit an application.
VAC-U-MAX has a variety of air-powered industrial shop vacuums that are "intrinsically-safe systems", use no electricity, and do not generate any heat from operation.
Kennedy warns that just because a vacuum is air operated does not necessarily mean that it is approved for use in Class II, Division 2 environments. VAC-U-MAX has immediate availability whole systems with bumper-to-bumper grounded and bonded designs that meet NFPA 70 requirements for grounding and bonding.
As the manufacturers and regulatory bodies become more proactive in addressing dust accumulation, the use of industrial vacuum cleaners as a common housekeeping tool will become more prevalent.
For more information about VAC-U-MAX portable
industrial vacuum cleaners
for Class II Division 2 environments, visit
www.vac-u-max.com
or contact us at 1-800-VAC-U-MAX (800-822-8629); email
info@vac-u-max.com