Snug Seal™ Wrought Iron Window Treatment Assembly System Launched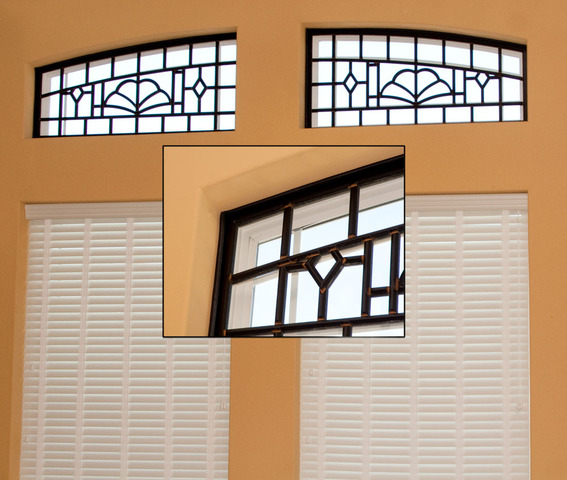 Austin, Texas, USA March 26, 2010 - Faux Iron Solutions Inc (
http://www.fauxiron.com
), the largest US distributor of Tableaux® faux wrought iron decorative inserts announces the introduction of Snug Seal™, a "template-less" window treatment assembly system. The Snug Seal™ assembly system (
http://www.fauxiron.com/snug-seal
) allows for the expedited crafting of the Tableaux® faux wrought iron window inserts for most window shapes without the prior requirement for templates. Customers ordering their decorative faux iron window grilles with the Snug Seal™ system will only be required to provide the standard measurements describing the window opening geometry.
The traditional Tableaux® faux wrought iron assembly method requires the use of templates for non- rectangular shaped window inserts which allow the manufacturing of the ornamental iron window inserts to a fairly accurate reproduction of the shape of the window, allowing for the inherent and sometimes significant dimensional variations encountered in window openings. This template requirement is eliminated with the introduction of the Snug Seal, a bulb seal which is pre-assembled around the frame of the Tableaux® faux wrought iron decorative window inserts. The Snug Seal™ can inconspicuously accommodate dimensional variation in the window openings of up to 1/2".
"The time and labor savings that our customers will experience by not having to make and mail templates will by far offset the nominal additional cost for the Snug Seal" stated Carol Blanchard, President of Faux Iron Solutions Inc. "A template-less system will also allow us to expedite the order quoting and order fulfillment process." "Last but not least, the Snug Seal™ will also reduce and in most cases eliminate the issue of light gaps - the sometimes obtrusive passage of light between the window opening and the decorative iron insert" she concluded.
"The Snug Seal™ method is not only useful for window treatment applications but for any interior design application requiring the precise insertion of Tableaux® faux wrought iron panels into an opening such as ceiling casements/coffers and wall niches", said Christian Garces, CEO of Luna Piena Inc, the manufacturer of Tableaux® faux wrought iron. "I believe that the simplicity the Snug-Seal™ brings to the installation process will increase the appeal of the Tableaux® faux wrought iron product to interior designers and window treatment professionals" he concluded.
About Faux Iron Solutions Inc.
Headquartered in Austin, Texas, Faux Iron Solutions (
http://www.fauxiron.com/company/about
) was established in 2004 to provide Tableaux®, a custom decorative faux wrought iron product to designers and window treatment retailers. Faux Iron Solutions is the largest and most comprehensive distributor of Tableaux® faux wrought iron in North America with over 1,300 interior designer and window treatment dealers in the USA, and Canada. Recent expansions in the international market include France, Morocco, Honduras, and Guatemala.
About Luna Piena Inc.
Luna Piena Inc (
http://www.tableauxtraceries.com
) is a custom window treatment and faux wrought iron manufacturing company based in Austin, Texas. Founded in 2002, the company has over 25 distributors in the US and Canada, reaching over 5000 interior design and window treatment dealers.
Email Faux Iron Solutions Inc.