New Rogue ADHD Memoir By Gifted Writer Digs Fiercely Into Adderall Addiction and Psychiatry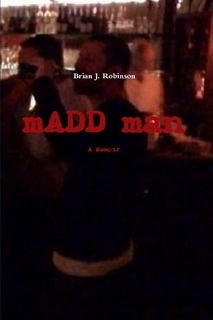 "mADD Man", is the beautifully written and magnificently dark memoir by author, Brian J. Robinson.
It digs deeply and often brutally into ADHD, Adderall abuse, Hollywood, philosophy, rebellion, Judaism, Tulane, New Orleans, and the unique perspective of someone WITH ADHD… This is not a clinical perspective.
This is an attempt to convince the establishment that this is a real issue and many many brilliant kids are being doped up on heavy amphetamines like adderall as early as three years old and stigmatized as having a "disorder" just because they cannot or refuse to conform to some sort of scholastic mold or expectation of behavior. Many brilliant kids continue to fall through the cracks of the educational system thinking they are dumb, or flawed… This is the beautifully written story about one Jewish individual's climb through Hebrew school (and getting kicked out), Tulane in New Orleans, being homeless in China, writing in Hollywood, and eventually ending up in rehab, only to emerge as an entrepreneur at 26 years old.
"Finally! A blunt but objective book that debunks LD/ADHD labels and exposes the unfortunate and limiting ways in which societal norms inhibit brilliance. Mr. Robinson's journey of interrupted genius is a first and important step toward a much-needed societal shift in which learning disabilities are celebrated…not diagnosed."
-Dr. Peter J. McDonald, PhD. (Educational Policy), Headmaster of Eagle Hill School and published author within various academic journals.
"I really enjoyed the glimpse into the fascinating mind of such a powerful and gifted young writer."
-T. Krohn, Random House Editor
http://www.lulu.com/content/paperback-book/madd-man/8414080