BestTrafficSchool.com Announces It Is Now Serving The State of Virginia with its On-Line Traffic School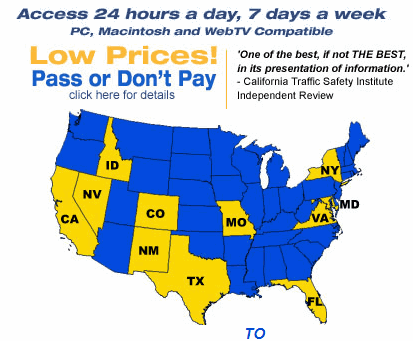 BestTrafficSchool.com is an on-line traffic school that allows drivers to clear tickets from their home or office computer at a time convenient for them. In the past, drivers with tickets needed to attend an evening or weekend school to clear ticket points from their driving record. With an on-line traffic school, drivers can now clear those tickets and points from any internet connection using an on-line school approved by their state. BestTrafficSchool.com has been approved by the State of California since 2000 and they are now approved by the State of Virginia as well.
The State of Virginia encourages residents to take driver improvement clinics to help drivers avoid and prevent crashes. Drivers can take an eight–hour classroom session or take a computer based course. The State of Virginia has authorized
www.BestTrafficSchool.com
as an on-line traffic school provider. The course provided by BestTrafficSchool.com prepares the driver to take and pass the required final which demonstrates knowledge and mastery of the subject of safe driving. Virginia awards 5 safe driving points for taking and successfully passing the safe driving course.
Exactly how does taking a driver safety course help the driver and the community? That question was posed to Matt Kaminsky, owner of BestTrafficSchool.com. "In Virginia a vehicle crash occurs every three minutes. The odds are one out of four that a resident will be involved in a crash during their lifetime. To reduce these odds, the Virginia Department of Motor Vehicles has created a different kind of crash course. Their Driver Improvement Program rewards safe drivers and warns potentially unsafe drivers in advance. It helps educate drivers who have developed risky driving practices and it takes dangerous drivers off the road. BestTrafficSchool.com is honored to be chosen by the Virginia Department of Motor Vehicles to educate their residents about safe driving practices."
BestTrafficSchool.com is so confident of its ability to educate and improve driver skills that it offers a full refund of the fee if a student cancels anytime before the final quiz. "We are committed to the quality of our instruction and course content, and we believe students will see real value in the material. That is why we offer a full refund" said Paul Lewin co-founder of the on-line traffic school. "In addition to our curriculum, offering this clinic online is a great way for out of state drivers to clear a ticket in Virginia without having to return to the state."
BestTrafficSchool.com was founded in 2000 and originally served the needs of California drivers who were choosing an on-line traffic school for skill improvement and reduction of traffic violation points. Now with their expansion into Virginia they are able to offer their innovative safe driving curriculum to more drivers than ever.
Visit their web site at
http://www.besttrafficschool.com
Email BestTrafficSchool.com