Porterhouse Group To Be New Tenant And Manager Of Fraunces Tavern Restaurant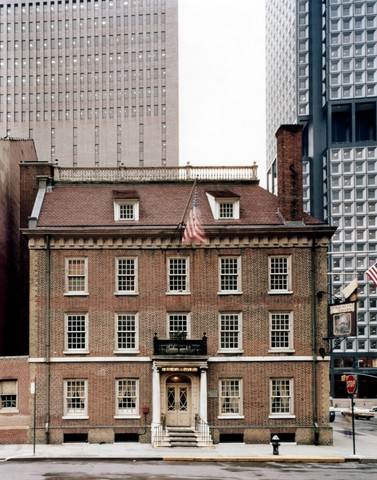 It was announced today by the Sons of the Revolution in the State of New York, Inc. (SRNY), owner of the national landmark Fraunces Tavern building at 54 Pearl Street in lower Manhattan, that it has signed an agreement with The Porterhouse Group to become the new tenant and operator of Fraunces Tavern® Restaurant on those premises. The lease will take effect on April 1 of this year and after allowing two months for preparations, the Restaurant is expected to open its doors again to the public on or about June 1. Restaurant operations ceased at the end of this past February under the previous tenant.
Details regarding The Porterhouse Group's plans for décor and menu are still in development however it is expected that the new restaurant operations will continue to pay homage to the history of the location while serving today's public tastes.
The Porterhouse Group was established in 1989 in Dublin, Ireland and today operates multiple restaurants, bars and nightclubs as well as their own microbrewery in Dublin. Fraunces Tavern® will be the Group's first American establishment.
"We were very pleased to have a lot of interest from some very high quality organizations for the Fraunces Tavern® Restaurant lease," said Anthony Wellman, SRNY Communications Director. "The Porterhouse Group presented the most promising mix of experience, capital, enthusiasm and vision to make the most of our historic location. We are very excited to be doing business with them and welcome them to this corner of Broad and Pearl Streets where food and drink have been served since 1762."
- About Fraunces Tavern -
Fraunces Tavern was built in 1719 as an elegant residence and purchased in 1762 by tavern-keeper Samuel Fraunces. The tavern played a significant role in pre-Revolutionary War activities and later housed early U.S. government offices of the Departments of War, Treasury and Foreign Affairs (today's State Department). It is best known as the site where General George Washington bade farewell to the officers of the Continental Army on December 4th, 1783.
In 1904, the Sons of the Revolution in the State of New York purchased the tavern, saving it from the wrecking ball. A restored Fraunces Tavern was opened to the public in 1907 featuring a Museum and Restaurant. Both operations have continued, independently run, to this day. In 2008 Fraunces Tavern was added to the National Register of Historic Places.
Fraunces Tavern® is a registered service mark of Sons of the Revolution in the State of New York, Inc., a not-for-profit corporation, instituted in 1876 and incorporated in 1884. For more information on it and Fraunces Tavern® Museum, visit
sonsoftherevolution.org
and
frauncestavernmuseum.org
. Or contact Anthony Wellman, Communications Director, Sons of the Revolution in the State of New York, Inc., 54 Pearl Street, New York, NY 10004. Telephone. 212-425-1776.
Email Sons of the Revolution In The State of New York, Inc.