Web Design Editor Wix Introduces Spanish and Italian Facebook and Twitter Accounts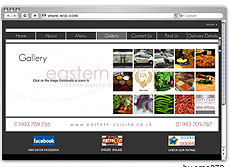 Wix.com created a graphic-based website editor, granting internet users the opportunity to create a
Flash website
, without having to enter a single line of code. The
website builder
uses a drag-and-drop interface with which Wix users can customize a series of design elements. Users constantly receive notifications of product enhancements and promotions via social media channels. This month marked the launch of Wix's first foreign language channels, with the creation of Spanish and Italian Facebook fan pages and Twitter accounts.
The Wix Italia and
Wix Espagnol
Facebook pages and Twitter accounts are updated daily with the latest in Wix promotions, server status, links to web design blogs, and tips on optimizing websites for SEO. An e-mail distribution was sent last week to Wix users in Spanish and Italian-speaking countries, notifying users of these implementations. Wix.com's French, Spanish and Italian home pages have also been revamped and made more functional. The translation of Wix's online support center, Wixpedia, is currently under construction. The step-by-step articles on how to use the website builder will be available in French, Spanish and Italian in a few weeks.
Wix's Marketing Director, Omer Shai, explains the motivation behind these efforts: "Foreign-language speakers have been using Wix for quite some time. By providing better means of support to these users, Wix is strengthening the ties between these users, and the broader Wix community." Future company plans include releasing foreign-language versions of the website editor itself.
However, the website builder's graphic interface is intuitive for non-English speakers, as represented by Wix's extensive community of international users. With the website builder, users can customize a
free website
with design elements including photo galleries, Flash animation, clip art, music and video files, links to social media, buttons, menus and more. Users can also embed widgets into their sites, such as Google maps and contact forms.
Wix is funded by Bessemer Venture Partners, Mangrove Capital Partners and Benchmark Capital. The company was created in 2005, and has headquarters in New York and offices in Tel Aviv.