New Jersey Web Design Firm Cyber X Designs Achieves A+ Accreditation for Website Design, Web Hosting, and IT Consulting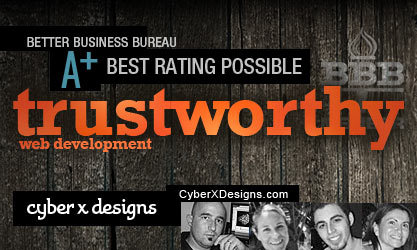 New Jersey
web design company
, Cyber X Designs, is pleased to announce it has achieved A+ accreditation by the Better Business Bureau of New Jersey for
web design
,
web site hosting
, and
IT consulting
. To be accredited by the BBB a business or organization affirms that it meets and will abide by the various Standards of Trust set by BBB. As a proud accredited business member of the BBB, Cyber X Designs is now authorized to display the BBBOnLine trustmark which links to a BBB report on the business.
Working with a BBB accredited business provides the consumer peace of mind, knowing that they are dealing with an honest company that is accountable to its clients. The BBB certifies that Cyber X Designs has been reviewed and has met the BBB's "Start with Trust" standard: Truth in advertising guidelines, discloses information about its business and its policies, follows basic privacy and security practices, and responds appropriately to any problems that arise.
"According to a recent research survey (2007), 7 consumers out of 10 would prefer to buy from a business that can display the BBB accreditation seal. We're very pleased to be recognized as a trustworthy web design company and will proudly display our A+ rating award." stated Hans C Kaspersetz, President of Cyber X Designs. "By joining the BBB we affirm the quality of our products and services, with assurance that each customer be fully satisfied with their experience."
About Cyber X Designs, LLC
Cyber X Designs is a web design company that creates interactive web sites for clients all over the world, specializing in the design, programming and deployment of web applications and web sites for small and medium sized businesses (SMBs) using open source technologies. Using the best technologies the web has to offer, Cyber X Designs provides a broad array of services including graphic design, Flash animation, promotional CDs, custom web applications, secure e-commerce storefronts, interactive learning tools, site-usability and content analysis, copy editing and writing, and search engine optimization.
With a
client list
spanning a broad spectrum of industries, including pharmaceutical, action sports, health, fitness and beauty, publishing, real estate, retail, commercial design and construction, trust
Cyber X Designs
to deliver outstanding service for any business.