Titanium Kay Moves Men's Jewelry Fashion Forward with the Innovative Style of a Titanium Wheat Link Chain Necklace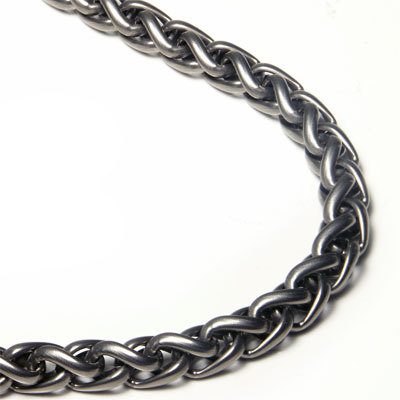 Los Angeles, CA – April 24, 2010: When it comes to men's jewelry fashions, few items have enjoyed the universal appeal of chains created from precious metals. Until recently, gold chains have been the most highly sought after jewelry item to express a man's fashion sense, but that has all changed with the introduction of the super metal titanium which now has gained favor for its incredible strength and eye-catching luster that rivals platinum. Titanium Kay, one of the premier online jewelry stores based in Los Angeles, California, now offers men the meticulous craftsmanship and beauty of the titanium wheat link chain necklace design.
The wheat link chain design is closely related to the popular "rope" chain style, but far more complicated to manufacture. Imported from Italy, the home of the finest jewelry craft tradition in the world, four strands of titanium are precisely woven together to create this flawless masterpiece with a bold, visual texture that replicates the look of one of the world's staple grains.
Without a doubt men's jewelry adds the finishing touch to any wardrobe ensemble and the titanium wheat link chain necklace compliments a man's appearance with an earthy, artistic flourish. This chain style crafted in titanium with its tightly braided design is distinctly masculine and appropriate for any occasion.
The quality of a jewelry item's design is a clear indication of its usability. Titanium Kay has chosen only the most highly-polished chains for this collection. The smooth finish of the titanium wheat link chain provides a comfortable feel on the skin and glides across fabric without damaging the fibers which is an important regardless of whether the attire is casual or formal.
The exceptional design of this high-polish 7mm titanium wheat link chain necklace affords men a timeless way to display their sense of style in a variety of lengths from 16 to 40 inches. The quality of this jewelry is more than superficial as the weight of this chain can attest. Unlike chains made from hollow links, the beautiful designs that Titanium Kay offers are made with solid links of titanium finished off with a soldered lobster clasp to ensure a lifetime of wearing enjoyment. The lobster clasp is evidence of Titanium Kay's attention to detail; it provides the best security for the chain while being easy to operate.
Fine jewelry is created to be enjoyed but many chain designs must be handled with care; one bend or twist of the herringbone, snake or omega chain styles and their beauty may be lost forever. This is where another advantage of the titanium wheat link chain design becomes clear, for it does not become tangled or "kink" protecting your the beauty of your jewelry and your investment.
For the man who wants to live in his jewelry every minute of the day and night choosing jewelry that can keep up with his lifestyle can be a challenge. The titanium wheat link chain necklace is one that can withstand the rigors of any activity; whether it's rock-climbing or sleeping, this jewelry will make a man look great no matter what he's doing.
Because of its lightweight and superior durability, titanium is the ideal metal for crafting men's jewelry. Pairing the extravagant wheat link design with this metal has produced an outstanding fashion accessory: it makes the perfect gift for the man who has an active lifestyle and enjoys wearing unique jewelry.
Since 1998, the world has turned to
http://www.TitaniumKay.com
for the ultimate collection of exquisite men's jewelry. Titanium Kay's online store has been the leader in providing innovative wedding band ring styles and designs crafted from tungsten carbide, titanium, carbon fiber and stainless steel.