Wix Creates Archive of Best Flash Websites Made with Website Builder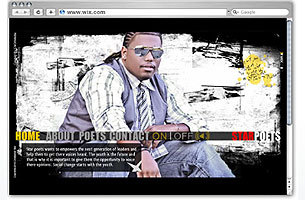 Wix.com is a start-up company that produced a dynamic
website builder
, to enable the creation of Flash websites through use of a simple, user-friendly platform. The program offers a variety of web design elements that can be used to customize a variety of web templates, or used to build a website entirely from scratch. Now, real-life examples of websites created by Wix users are available in the Wix of the Day Archive, offering a glimpse of what is possible with Wix's software.
The Wix of the Day Archive project is based on a collection of "Wix of the Day" websites, all of which were created with the Wix website builder. Starting in January, Wix website owners have been given the opportunity by the company to submit their websites as candidates for the "Wix of the Day" competition. Every day, a different Wix of the Day is featured on the company's homepage, with a brief description of the design elements included in the
Flash website
. This is an excellent promotional opportunity for Wix users whose sites are featured. It is also an effective strategy of product promotion by the company itself, as interested clients can take a look at what worked for others in the past.
The new Archive takes it a step further, enabling all members of the Wix community – veteran website builders as well as those brand new to web design – to see the entire gallery of websites deemed most successful.
The
Wix of the Day Archive
can be accessed through a link on Wix's "How To" page. Visitors to the Archive can scroll through the entire Wix of the Day collection, posted in chronological order by the date that each website had its début on Wix.com. A short description of each website's design elements is included. This offers an extremely convenient means of gaining inspiration for one's own web creations.
To be chosen as a Wix of the Day website, Wix users submit their URLs to Wix via a link on Wix's homepage, under the Wix of the Day. The Wix Design Studio chooses websites that achieved a standard of success using the
free website
builder. The selection process initially takes account of each website's visual appeal, as well as how they used the various design elements offered by Wix. Websites with widgets, photo galleries, contact forms and Flash animation are favored by the Design Studio, because they demonstrate Wix's full potential to create dynamic websites that optimize user experience.
"We're often stunned by how impressive the web designs are that we receive from users. The website builder allows creativity to be pushed to its limit, and the work we've seen beautifully illustrates this," says the head of Wix's Design Studio, Hagit Kauffman.
Wix.com was created in 2005 and has offices in New York and Tel Aviv. It is funded by Mangrove Capital Partners, Bessemer Venture Partners and Benchmark Capital.