Consumers look for Last Minute Holidays in the Sun, says holidayholiday.co.uk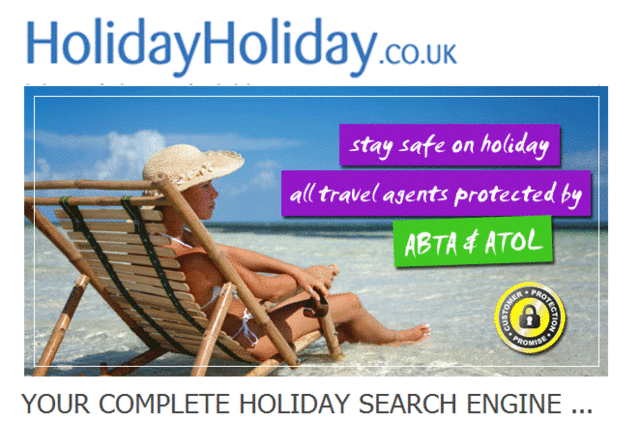 Consumers are rushing to book their last minute holidays in the wake of the Ash cloud crisis that brought the travel industry to a standstill earlier this month, says
holidayholiday.co.uk
.
With the ban on air travel lifted, many holidaymakers have now resumed searching for deals on
last minute holidays
, hoping to get a cheap deal before prices reportedly rise. According to holiday website
www.holidayholiday.co.uk
, holiday searches are now on the increase for typical Summer holiday destinations including Greece, Turkey, the Canary Islands, Spain and the Balearic Islands as holidaymakers look to save money on their holiday.
It is feared that flight prices may see a rise this year in order to help airlines claw back some of the money lost during the recent grounding of planes in response to the ash cloud threat. This, coupled with rising oil prices, may have resulted in the soar in last minute holiday searches experienced on sites like holidayholiday.co.uk, as consumers look to book their holiday whilst cheap prices still remain.
Says Emma Healey, Director of HolidayHoliday "Since the all-clear was given to allow aeroplanes to fly again from the UK, we've seen an increase in
last minute holidays
being searched on HolidayHoliday particularly for May 2010 and also for traditional Summer months such as July. Perhaps many holidaymakers felt uncertain of whether to book their holiday earlier in the month and decided to wait whilst the ash crisis played out. They now feel more confident about booking a holiday that won't be cancelled and are taking advantage of the many millions of last minute holidays available right now on holidayholiday.co.uk"
So where's the best bet for a good value holiday this year? "There are lots of good deals available for destinations such as Turkey at the moment, particularly on increasingly popular all inclusive holidays, with many deals offering hundreds of pounds off the price" says Emma "Greece is another area we expect to see some good
last minute holidays
for as hotels incentivise holidaymakers with good prices in order to encourage tourism, hopefully bringing a much needed financial boost to Greece and the popular Greek Islands".
With millions of
last minute holidays
to be found, perhaps the forthcoming May bank holiday weekend will be spent by many looking for that all important cheap holiday deal.