Plan a Graduation Party with Bubbalous's Catering and Party Packs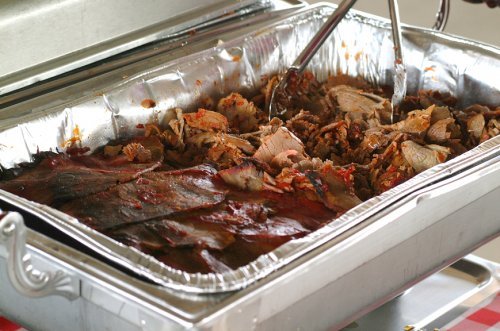 Make graduation party prep easier with barbecue from Bubbalou's BBQ Catering & Restaurant. Bubbalou's has been consistently voted one of the best BBQ restaurants in Orlando and Central Florida by the Orlando Sentinel and Orlando Weekly.
"Just call us to place an order for a Party Pack or we can deliver the food to you if you want the party catered," said Bucky Weston, owner of Bubbalou's Bodacious Bar-b-que in Altamonte Springs, Florida.
Most people go to a restaurant after a high school or college graduation ceremony, but that is not always the best choice, especially if it's a large party. Restaurants can fill up fast with other people who had the same idea. Restaurants also have limited seating which puts a restraint on the number of guests.
When the party is catered and held at a residence, clubhouse or event center, the environment can be controlled and customized to accommodate the theme of the graduation party and the number of guests attending. Having a graduation party professionally catered gives the party planner more control over the environment and how many guests can attend the party.
"Bubbalou's will handle the food, side items and even the dessert if you want, so you have more time to oversee the flow of the party and attend to your guests," said Weston.
Party Packs
are made to order, and
catering selections
provide more food options in the amount needed. Catering selections include main courses such as bar-b-que chicken, pulled pork, baby back ribs, and hamburgers. Side items such as corn muffins, collard greens, and Brunswick stew perfectly complete entrees, and desserts ranging from peach cobbler to pecan pie provide a delicious ending to a meal.
Start planning a graduation party now by browsing the savory catering menu and Party Pack selections. Visit Bubbalou's on the Web at
www.bubbalouscatering.com
About Bubbalou's BBQ:
Since 1986, Bubbalou's has been serving Central Florida's best BBQ. The winner of numerous food awards including The Orlando Sentinel Reader's Poll Best BBQ 14 years in a row, Best BBQ Dive in America by the Food Network and Best BBQ by Orlando Weekly readers, Bubbalou's BBQ Restaurants also offers award winning catering service for Orlando and Central Florida.
Bubbalou's catering menu
has various barbecue favorites from Hamburgers to their famous barbecue Chicken, Beef, Pork, and mouth-watering Ribs, all smoked and cooked to perfection. In addition, event planners can order Bubba's best Baked Beans, creamy Cole Slaw, and oven-baked Brownies. Bubbalou's Catering service is second to none for the Orlando and Central Florida area. See how Bubbalou's Catering service can liven up any office party, wedding, picnic, or other special event.
Contact:
Bucky Weston, Owner
Bubbalou's Bodacious Bar-B-Q - Altamonte Springs, Florida
Phone: (407) 965-1286
Joe Clark, Manager
Bubbalou's Bodacious Bar-B-Q – Kirkman/Conroy, Orlando, Florida
Phone: (407) 278-8770
Email Bubbalou's Bodacious Bar-B-Q