Napoleon® Gourmet Grills Attempts the World's Largest Hamburger Record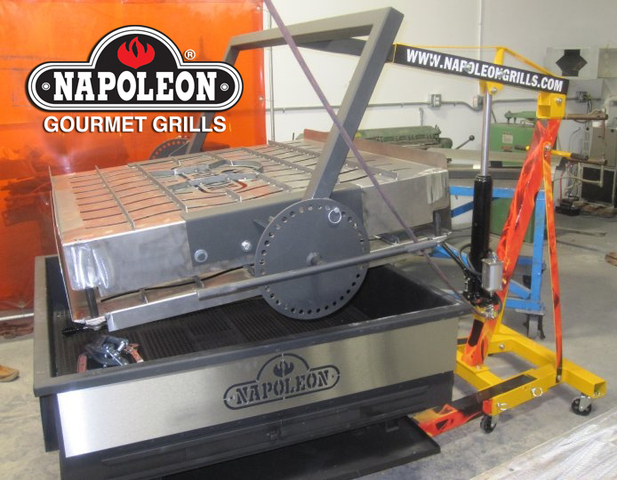 Toronto, Ontario May 4, 2010 - Napoleon® Gourmet Grills is attempting the World's Largest Hamburger for the Guinness Book of World Records at 12 noon on Thursday May 6th, 2010 at Yonge-Dundas Square, Toronto, Ontario (South-East corner of Yonge Street and Dundas Street)
"300 lbs of burger is sandwiched between 2 stainless steel cooking grids and lifted with the aid of a specially design gear mechanism and hydraulic hoist," says David Coulson, National Advertising Manager for
Napoleon® Grills
, "We have spent weeks with our engineering department to develop a monster grilling machine of epic proportions! This massive burger grill will be able to control the heat and successfully flip this world record burger!"
The public is invited to join us and our record breaking attempt to beat the 185.8 lbs Guinness World Record for 'The Largest Hamburger - Commercially Available' by grilling a burger of approximately 300 lbs. Ted Reader, Canadian BBQ chef & food entertainer will be the "Chef in Charge" of cooking this crazy feast. Proceeds from the auction of the world record burger will be donated to Chef Ted Reader's charity of choice, Camp Bucko ― a charity camp for children who are burn survivors.
David Coulson also adds, "For those interested in following this event you can get up to date information by following me on Twitter
@GourmetGrills
– We can't wait to try out this monster grilling machine!"
About Napoleon Gourmet Grills:
Napoleon® is North America's largest privately owned manufacturer of quality gas, wood, pellet and electric fireplaces, inserts and stoves, gourmet
grills
, outdoor living products and indoor waterfalls.
Napoleon's commitment to producing fireplaces, grills and indoor waterfalls combined with honest, reliable service has proven to be a successful framework to ensuring the continued growth of the company. Napoleon® is an ISO9001 ‐ 2008 certified company and operates with over half a million square feet of manufacturing space and over 500 employees with US headquarters in Crittenden, Kentucky.
We take pride in our
Gourmet Grills dealer network
stretching across North America – contact a Napoleon® Authorized Dealer in your area to see the difference Napoleon® Quality makes.
Email Napoleon® Gourmet Grills