ACOM Health Sponsors Chiropractic Documentation and EMR Software Resource Center at ChiroEco.com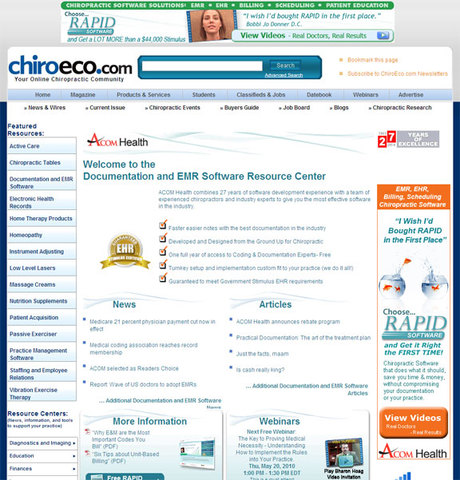 ATLANTA, Georgia, May 04, 2010 – ACOM Health has expanded its outreach to the chiropractic community with the sponsorship of a Documentation and EMR Software Resource Center on the ChiroEco.com website, it was announced today by ACOM Marketing Services Manager Karl Kleinbach.
Information in the Center is frequently updated with new material from Chiropractic Economics, ACOM Health and many other online sources, all contributing articles, news, blogs, videos and educational webinars. ACOM Health invites doctors to store the address in their "favorites" and to visit as a regular part of their web activity.
To do so, click on
http://www.chiroeco.com/sections/office-technology/documentation-emr/
"Like the broad healthcare community, Chiropractors are under pressure from many directions and doctors need a continuous stream of dependable information to anticipate and cope with change. We monitor the situation carefully and this new communications outlet provides us with a way to share both industry perspective and company information quickly and in a reliable forum," said Kleinbach.
"Our aim in teaming up with Chiropractic Economics magazine on this site is two-fold." According to Kleinbach, "We are working closely with the magazine to provide a rich selection of content that will be a valuable resource to doctors striving to build and maintain ever more successful practices. At the same time we hope to make doctors aware of the software solutions that can make meeting their documentation requirements much easier and more effective."
About ACOM Health
ACOM Health serves chiropractors with software and services that enhance efficiency, cut costs, and increase practice revenue. ACOM Health's
RAPID Chiropractic Software
Suite consists of Clinical Documentation and Notes; Patient Education; Home Exercises; and
Chiropractic Practice Management for billing, scheduling
, patient management and detailed reporting. ACOM Health's Chiropractic Services team helps practices ethically and legally maximize their billings and collections, while streamlining practice operations. For more information, call 866-286-5315 ext. 217, email
acomhealth@acom.com
, or visit
http://www.acomhealth.com