Wix Releases New Version of Free Website Builder with Online Video Playlists and Advanced Linking Abilities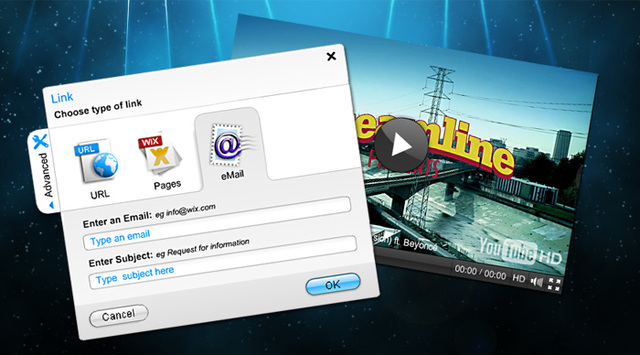 With Wix's unique Flash website builder, internet users can
make a free website
using a graphic-based drag-and-drop editing process. Wix.com was established in 2006, and released the beta version of its
website creator
in 2008. This week, Wix is releasing an improved version of the software, offering new and improved features for an easier editing experience.
One of the new highlights in this latest version will allow users to create video playlists. Similar to the function of a music playlist, the new video playlist component will allow visitors to browse through multiple videos, in the same player window. This will reduce the loading time of websites that include multiple videos. Menus can also be added to video playlists, creating a stream-lined viewing experience. The playlist menus can be placed anywhere, and are fully customizable. Users can also customize the playlists themselves with new video skins, and colors. Settings can be adjusted to have the videos played in HD, or on auto play.
With this latest version, it is also now much easier to link buttons and other items (i.e. shapes, clip art and pictures) to Wix pages, external URLs and e-mail addresses. Previously, links were assigned through the "Behavior" section of an item's property panel, which is located at the bottom of the
website builder
. Now, the process of link assignment is much simpler, and is enacted as soon as a user clicks on any item with linking abilities. This prompts a link icon to appear at in the property panel. From this new graphic "Link" icon, users can easily select where they want each link to lead, as well as manage multiple links assigned to the same item.
These changes are just the first in a series of product enhancements that Wix has scheduled for release over the next few weeks. Wix users will be pleased to discover various improvements and tweaked features inside their
free website
builders, which will be formally announced to all Wix users via e-mail.
Avishai Abrahami, CEO of Wix, comments on these new product developments: "What makes Wix such a favorite among the website building community, is its devotion to user needs. The improved link mechanism was something we knew our users wanted, and we worked hard to make it easier to access and manage. The video playlist feature reflects the enthusiasm of today's 'YouTube Generation'. Online videos are emerging as powerful marketing tools, and Wix is making it as easy as possible for our users to take full advantage of this trend. We have a very loving relationship with our users, and it is this relationship that makes Wix a highly competitive player in the market of website design tools."
Wix's offices are located in New York and Tel Aviv, and the company is funded by Mangrove Capital Partners, Bessemer Venture Partners and Benchmark Capital.