Upland Dentist, Dr. Eftekhari, Offers Special Promotion for Welcome Dental Exam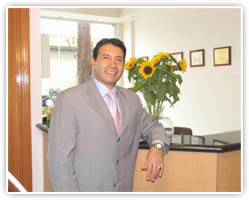 UPLAND, California (May 11, 2010) – Dr. Abbas Eftekhari, a well-respected
Upland dentist
of Upland Dental Practice, is currently offering several promotional offers for various dental services.
Special Offers at Upland Dental Practice and United Dental Care in Culver City
- Complimentary Consultation— For a limited time, new patients to Dr. Eftekhari's practice can receive a free consultation.
- $100 Off — Anyone looking for a new cosmetic dentist in Upland will be happy to hear that Dr. Eftekhari's office is currently offering $100 off on teeth whitening treatments.
- Welcome Children's Exam — Parents in need of an Upland children's dentist should take advantage of Dr. Eftekhari's Welcome Children's Exam. For just $49 each, children who are new patients to the practice can receive a cleaning, fluoride treatment, and x-rays.
- $50 Off — If you or a member of your family has a need for a more complex dental treatment, call Dr. Eftekhari's office to find out how you can get $50 off any treatment of $1,000 or more.
About Dr. Eftekhari
Dr. Eftekhari, affectionately known as "Dr. E" by his pediatric patients, is a
Culver City dentist
/
West Los Angeles dentist
who also has an office in Upland. Dr. E works hard to make his offices warm, welcoming places for patients of all ages, but especially focuses on making children comfortable with going to the dentists. His staff members have all been specially trained to relieve the anxiety and fear so often associated with the dentist, making it easy for dentophobic patients to finally come back to the dentist's office.
An active member of the American Dental Association, Dr. E,
Upland pediatric dentist
, has also volunteered with the One Smile at a Time project, which aims to provide dental care and oral health education to underprivileged children. His volunteer work has earned him certificates of appreciation from the Los Angeles Dental Society, the Latin American Dental Association, the Iranian Dental Association, University of Southern California's School of Dentistry, and the Los Angeles Unified School District.
Other Doctors in Dr. Eftekhari's Practice
As phenomenal as Dr. E, is with his patients young and old, he couldn't do it all by himself. He relies upon several other dentists in his practice in Culver City with equally impressive educations and reputations in the community.
Dr. Reza Salmassian is United Dental Care's orthodontist. Dr. Salmassian decided to become an orthodontist at the age of 13, when he himself wore braces for the first time. The encouragement he received from his own orthodontist inspired him to one day help other people just like him who needed some extra help with their teeth. After graduating with the highest honors from Arizona State University as an undergraduate, Dr. Salmassian,
Culver City orthodontist
, went on to dental school at the University of California – San Francisco, where he also received high honors and Dean's List status. Dr. Salmassian is excited to be using the very latest orthodontic technologies to help his patients reduce their treatment time and discomfort.
Dr. Hamid Daneshmand United Dental Care's periodontist. Dr. Daneshmand,
Culver City periodontist
, help patients with serious surgical and non-surgical reconstructive and cosmetic procedures, most notably dental implants.
If you or any member of your family is searching for an excellent Upland or Culver City dentist or children's dentist, call Dr. Eftekhari's Upland Dental Practice at (909) 920-6000, or go to their website at
http://www.UplandDentalPractice.com
or visit them at 300 East 7th St. Suite 1-4, Upland CA 91786 or United Dental Care at (310) 390-6000, or go to their website at
http://www.culvercitydentist.com
or visit them at 3909 S. Sepulveda Blvd. Culver City, CA 90230 today to find out how you can take advantage of their current special offers.
Internet Marketing by
http://www.AvitalWeb.com
Email Upland Dentap Practice