Top 13 Best Buys in Online MPA Degrees: Masters of Public Administration - GetEducated.com's 2010 Online Business School Rankings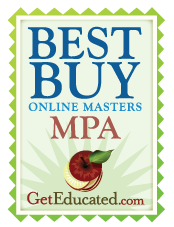 GetEducated.com, a consumer group that reviews and ranks online university degree programs for cost, quality, and credibility has released its 2010 public administration and public affairs school rankings of the
Top 13 Best Values in Online MPAs– Regionally Accredited
.
The online university affordability rankings are based on a comprehensive survey of 21 regionally accredited administration schools that offer 31 different MPA or master's in public affairs degrees via distance education.
UNC Pembroke earned an "A" in affordability for online students in North Carolina by ranking #1 for its MPA, which boasts majors in general studies, criminal justice, and healthcare administration. Total cost: about $4,400. By comparison, the average cost for an online master's in public administration (regionally accredited category) is $19,277.
According to the national review of online MPAs, the most expensive program, from Devry University, costs about $33,000.
GetEducated.com's Top 10 Ranked Best Values
Online MPAs – Regionally Accredited
10 Quality Buys Under $18,000
1. University of North Carolina Pembroke (NC)
2. American Public University (WV)
3. University of North Dakota (ND)
4. Florida Gulf Coast University (FL)
5. Troy University (AL)
6. University of Texas System (TX)
7. California State University Dominguez Hills (CA)
8. Park University (MO)
9. Upper Iowa University (IA)
10. Golden Gate University (CA)
GetEducated.com has posted a complete ranking of the
Best Values in Online Master's in Public Administration and Public Affairs
for free online.
"Online education has made higher education more accessible," says Vicky Phillips, GetEducated.com's Chief Education Analyst, "but cost remains a huge barrier, especially for professionals in government and non-profit management. GetEducated's Best Buy rankings help consumers find high-quality, low cost educational bargains." All GetEducated's Best Buy schools cost only about one-quarter the cost of the national average.
The MPA degree is considered the MBA for public sector managers. It is often sought by those in the government, military, human services, non-profit, emergency management and allied healthcare career fields.
Comparative data on all online MPAs is available in
GetEducated.com's Guide to Online University Degrees
. The group's free online university directory helps educate the public about affordable online education programs.
About: Founded in 1989, GetEducated.com is a consumer group that reviews and ranks online university degree programs along the dimensions of cost, quality and credibility. The group issues report cards on accredited online degree programs in an effort to bring transparency to the online education selection process in terms of cost, public perception and student satisfaction.
CONTACT: Melissa Eubank, Information Services, GetEducated.com, LLC, Essex Junction, VT. 05452. 802-899-4866. Website:
http://www.geteducated.com
Email GetEducated.com, LLC