Dawn to dusk diamonds - keep cool with diamonds from Icecool.co.uk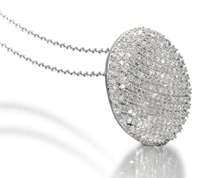 Time was when diamonds came out after dark or were kept for special occasions. The diamond experts at Icecool, the online diamond jewellery boutique, firmly believe diamonds are now daytime essentials and should be worn and enjoyed every day, for personal pleasure.
Be cool this summer by wearing diamonds as a sparkling second skin, all day every day, from dawn to dusk and after-dark, moving flawlessly from early morning breakfast meetings to the most glamorous of midsummer parties.
Mark Walker, Creative Director of
www.icecool.co.uk
and
www.icecooldiamonds.com
, the ultimate diamond concierge and bespoke service, says 'There is a new sense of joy and exuberance in diamonds for everyday wear, as in our Stepping Stone pendant, organic, sensual but sleek.'
The 'Stepping Stone' stunning diamond pendant will look good as a balance to city shorts or a compliment to a colourful print day-dress. Or for a more tailored, toned-down approach, still tinged with a breezy lightness, try the Orbit pendant and the Circle of Life, circles streaked with fine diamonds.
While a new modern minimalism gives key statement diamonds a strong and simple silhouette, a single crisp Princess cut stone, or a line of stones to create a block of radiance, like the Allessandra pendant.
This summer is for sparkling.
To view the new Icecool site with the complete 2010 Collection log on to
www.icecool.co.uk
A free mail order book is also available via the website or by calling 0207 831 7648
Call the experts - To speak to a diamond expert call 020 7831 7648, 9am - 5pm, Monday - Friday