ACOM Explores "Achilles Heel" of ACH Payment in Accounts Payable; Video Shows How Full Realization of ACH Benefits Can Be Achieved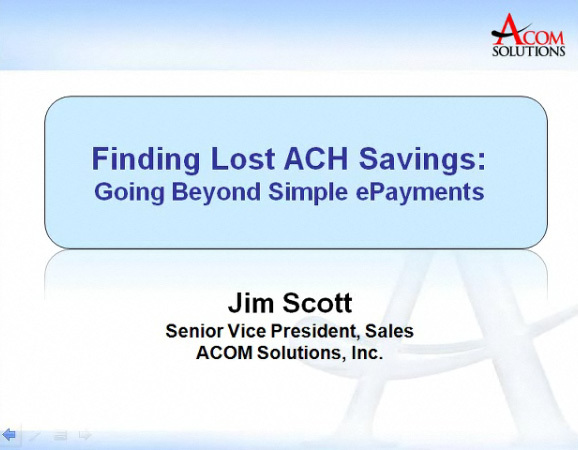 LONG BEACH, California, May 20, 2010 – ACOM Solutions, Inc. has posted a 10-minute open-access tutorial on how companies can cut costs by making more effective use of the ACH network for accounts payable, and how they can
convert vendors from checks to electronic payments
quickly and easily, it was announced today by Senior Vice President and Presenter James R. Scott.
Registration is not required to view the tutorial, which can be accessed at
http://www.acom.com/achwebinar
A majority of business organizations already use direct deposit for payroll, but the reverse is true for accounts payable, Scott said, noting that numerous studies have shown that on average, fewer than 15 percent of vendor payments are made via ACH, even though many have the capability available either through their bank or their payment software.
"The result," he points out, "is that they miss out on the benefits of ACH payment such as cost savings and reduced risk of check fraud. Typically it costs about $2.00 to process a check. ACH payments cost only about 17 cents. The math is easy; every payment made via ACH reduces costs by about 90 percent. While it would be unrealistic to expect 100 percent conversion, reaching 60 percent of payments made via ACH is easily attainable. In our own company over 70 percent of our
accounts payable payments
are made using the ACH network. The savings are dramatic, and most of the conversion effort is performed by the vendors themselves."
"We encourage everyone engaged in corporate payments to follow the link, get the facts presented straight-up without promotional window-dressing. If they like what they learn they can explore their opportunities with us further at
sales@acom.com
, or by calling 800-699-5758. An investment of 10 minutes can return hundreds of thousands of dollars over time."
About ACOM Solutions, Inc.
For over 27 years, ACOM has been automating document and payment processes for more than 4,000 organizations, across all industries. Developing solutions that are best suited for accounting/financial departments of mid-size organizations, ACOM's solutions integrate with any financial/ERP system to extend their capabilities to dramatically improve an organization's efficiency by automating their previously manual, paper-based processes, and significantly decrease an organization's costs.
For more information about partner opportunities, call 800-347-3638 ext. 4150, email
partnerinfo@acom.com
, or visit
http://www.acom.com/channels
Email ACOM Solutions, Inc.