Start-Up Wix to Host Event at Annual Internet Week Conference in NY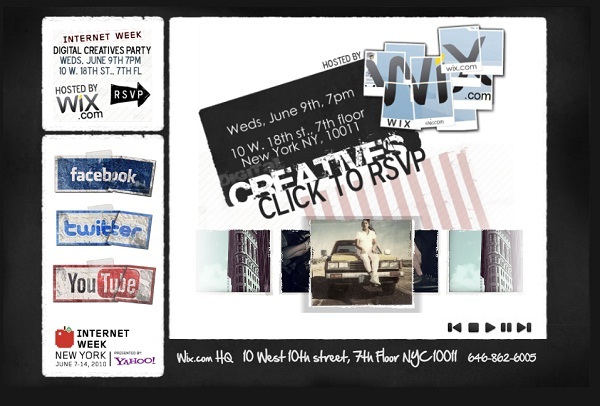 In just a few weeks, web-industry professionals will gather in New York to participate in the 3rd annual Internet Week NY. This week-long event provides an open opportunity for anyone interested in learning about the web as a powerful promotional tool. More than 20,000 people are expected to attend this year's Internet Week, from various segments of the web-industry, including artists, tech junkies, marketing professionals, and entrepreneurs. Wix.com is one of the bright new start-ups making its debut entrance as an Internet Week event host.
Wix's user-friendly
website builder
has made it so that the website creation process is a breeze for the average internet surfer, with no web programming experience, or inclination. Users can sign up for a free website account via the Wix home-page, and are instantly granted access to a GUI-interface, where a a drag-and-drop process for web design customization can begin. Users can choose to personalize a professionally-designed web template, or
create a website
entirely from scratch.
The Wix company philosophy reflects the "open opportunity" theme underlying Internet Week: all interested are invited to attend, and even host, no matter how large or small the company, organization or website. Thanks to Wix, a typical online consumer can now make a website that is entirely capable of building and sustaining a strong online presence.
The event to celebrate all of this is dubbed "Digital Creatives", and will be held in Wix.com's posh New York headquarters. As the name suggests, this stylish event will cater to a specific niche of web-users: the "creatives". Artists, photographers, marketing professionals, graphic designers, entrepreneurs, and anyone in a web-related industry - or interested in joining one - will mix and match at this inspiring event. They'll receive live demonstrations of Wix's website creator, plenty of cool SWAG (party giveaways), and the chance to participate in pretty remarkable networking opportunity.
To attend Digital Creatives, simply RSVP through the
Digital Creatives flyer
- a Flash website built with Wix. Attendees can catch a glimpse of Wix's design capabilities in this dynamic site which includes a music player, animated photo galleries, widgets and links to graphic links to social networks and YouTube.
Brandon Kreiss, Wix's Head of Design and organizer of luminary event, welcomes those new to Wix: "If you still haven't heard of Wix - come, meet people, have a good time, and see the most promising free web design tool offered on the web." The Digital Creatives party will be held on Wednesday, June 9th at 7:00pm, at Wix New York Headquarters, which are located at 10 West 18th Street, on the 7th floor.
Wix is funded by Mangrove Capital Partners, Bessemer Venture Partners and Benchmark Capital. With headquarters in New York and offices in Tel Aviv, Wix has grown since its inception in 2006 to reach 3.8 million people worldwide operating
free website
accounts.