Christmas Farm Inn & Spa Hires Stan Shafer as Executive Chef of their Jackson, NH Restaurant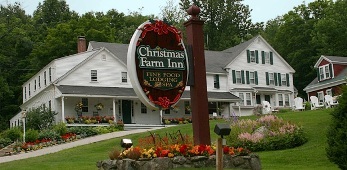 Jackson, New Hampshire — Michael Tolley, owner of the
Christmas Farm Inn & Spa
, announces the hiring of Stan Shafer as Executive Chef of the Christmas Farm Inn Restaurant. Mr. Shafer joins the Christmas Farm Inn team from his position as Executive Chef for the Eagle Mountain House in Jackson, NH where he spent eight years. "We believe Stan will be a great addition to our team," says Mr. Tolley. "He is a talented chef and his experience in the Mount Washington Valley makes him very familiar with the preferences of both our local and out of town guests."
Mr. Shafer is a graduate of the Culinary Institute of America in 2001. Prior to his formal culinary training, he served in the Marine Corp and participated in Operations Desert Storm and Desert Shield. He then spent 6 years working in various resort restaurants including facilities in Breckenridge, CO, Montauk, NY and St. Croix. According to Mr. Shafer, "this apprentice period taught me the fundamentals of the restaurant business from the ground up and exposed me to many different styles and techniques and gave me a jump start into Culinary School."
When asked about his plans for the Jackson, New Hampshire restaurant at the Christmas Farm Inn, Mr. Shafer said, "I plan to produce menus with a mix of Olde New England favorites, Classic French and Italian Cuisine. We will also present an interesting assortment of specials which will feature a variety of ethnic cuisines including Asian dishes, which hold a fond place in my heart. We're designing our menu to appeal to local guests looking for a well prepared, affordable meal as well as guest staying at the Inn who want a special occasion dinner to highlight their trip to the Valley. Two personal specialties mentioned by Mr. Shafer that are sure to find their way to the menu include Pan Seared Haddock Basilico and Sirloin Steak Lyonnaise.
Mr. Shafer lives with his wife, Sara, and daughter, Caleen, in Redstone, New Hampshire. When he's not preparing meals at the restaurant, Stan and his family can be found spending time with their horses or renovating their old New England home.
The
Jackson, NH restaurant
at the Christmas Farm Inn and Spa will reopen for the season on May 28th and begin dinner service at 5:30, Tuesday through Sunday evenings. It can accommodate up to 46 guests in the casual setting of the main dining room.
About Christmas Farm Inn & Spa
The Christmas Farm Inn is a charming
Jackson, NH Inn
with a state of the art spa. They offer a unique experience among
Jackson NH hotels
and lodging. Set on a hillside overlooking the beautiful mountains, this historic, Mount Washington Valley lodging offers the personal touches of a country inn with the amenities of an upscale, modern resort. They have 34 distinctive rooms and 7 cottages to accommodate a variety of guest preferences.
Email Christmas Farm Inn & Spa