18 Best Online Masters Degree Programs in Human Resources (HR) Ranked for Affordability by GetEducated.com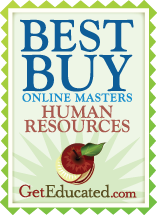 GetEducated.com, an education research group that publishes online graduate school rankings, comparisons, and reviews, has released its 2010 rankings of the
Best Online HR Degrees - Top 18 Ranked Best HR (Human Resources) Masters Degrees Online
.
The online university cost and affordability rankings are based on a comprehensive, independent comparison of 33 regionally accredited graduate schools online that offer 35 different human resources (HR) masters online in career areas including training and development and HR management. Both masters of science and arts and online MBAs with HR (human resources) concentrations were reviewed, compared and ranked for affordability.
Amberton University, a private university in Texas, ranked #1 for its online Master of Science in Human Resource Training and Development. The Amberton online HR degree program charges a low estimated cost of $8,100 for online students nationwide.
Tarleton State University, also of Texas, ranked #2 for its distance learning Masters of Science in Human Resource Management. Texas residents will pay only about $10,000 for this online HR degree. Non-residents will pay $19,278.
The #3 ranked online masters degree, Troy University, Alabama, charges the same low tuition ($10,950) regardless of state of residency.
Average cost of an HR masters online, according to GetEducated.com's review, which included 33 regionally-accredited graduate schools online, is $22,087.
By comparison, the national survey of online graduate school costs revealed that Drexel University of Pennsylvania offers the most expensive online degree at about $41,175.
Five of GetEducated.com's top 10 ranked best online HR degrees are offered by private universities. The other five come from state or public universities, which are increasingly offering graduate degrees to a national marketplace of HR professionals who seek continuing education online.
"Online education removes geographical and time barriers, allowing HR professionals nationwide access to continuing education according to their individual schedules," says Vicky Phillips, GetEducated.com's Chief Education Analyst, "but cost remains an inhibiting barrier.
"Online students need to know that cost and quality can be found in one package. Lesson one: students should compare costs prior to enrolling in online HR degree programs."
All GetEducated.com's top 3 ranked best buys in online HR degrees offer students a chance to attend a regionally-accredited online HR degree program for one-half the cost of the national average.
GetEducated's Top 18 Ranked Best Online HR Degrees – Best Buys Online Masters in Human Resources
is free online. All online graduate schools reviewed in the survey are profiled in detail in
GetEducated.com's accredited online degree directory
.
Email GetEducated.com, LLC