Website Builder Wix Creates Photography Blog for Users to Showcase their Work and Enhance their Portfolios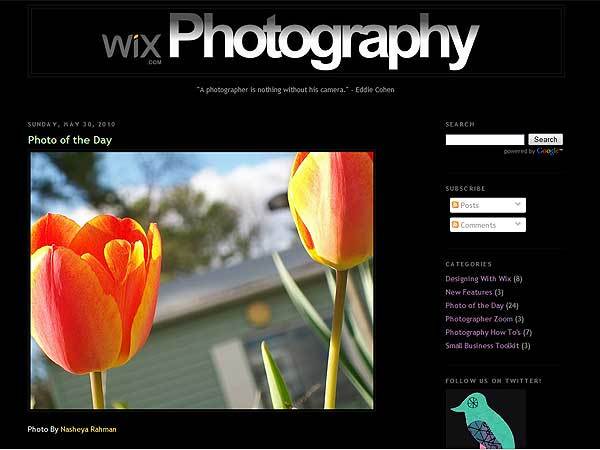 Wix developed an online web editor tool that users can use to create free websites through a simple drag and drop interface. Photographers make up a significant portion of Wix's 4 million users. So the company launched the new
Wix Photography
blog, to help users improve their photography websites and get their work seen.
Wix itself is a powerful tool to have as a photographer. There are tons of
free photography website
templates in Wix's template gallery. Each template has photo galleries that are fully customizable with just a few clicks, and users can add a variety of design elements to the templates as well. With Wix, photographers can easily create high quality, cost-efficient online portfolios to present to clients, employers, admission boards, etc.
Now, there is an additional valuable resource available to photographers with Wix websites. Wix users can tap into a network of opportunities at Wix Photography. There are video tutorials on using Wix to create a
free website
for portfolios, and articles on web design and layout. There are also tips on photography itself.
There are also weekly "Photographer Zoom" posts which focus on a particular photographer with questionnaire answers in an 'Inside the Actors Studio' format. Every day a "Photo of the Day" post includes a sample of work from a Wix user's website. These are excellent opportunities to gain links to one's portfolio and gain exposure to the web community.
An additional perk offered by the Wix Photography blog enables photographers to submit their work to in-house Wix design experts, for professional feedback.
Users can post comments under each post, ask questions, provide answers, share ideas and exchange artistic input. In other words, the Wix Photography blog is more than just a resource for information; it's an interactive network of people with common interests and goals, connecting with one another in order to improve the quality of their work, and even form business relationships.
The editor-in-chief of Wix Photography, Talya Fuksman, describes the potential of this blog for photographers and Wix users: "We created Wix Photography as a place for aspiring and professional photographers alike to gain inspiration and learn how to improve their sites, not just from Wix but also fellow photographers and designers. Additionally, the blog provides a platform for users to gain exposure to the online community and showcase their work on a much larger scale. It's a very exciting opportunity for both newbies and established pros, to drive more traffic to their sites and generate new leads."
To submit a Wix site for review by an expert or to be featured in a "Photo of the Day" post or "Photographer Zoom", visit the Wix Photography blog. Guest bloggers are welcome to submit writing samples and have their photography-related articles, tips and how-to's published.
Wix.com was established in 2006 and the beta version of the
website creator
was released on June 26, 2008. Wix is backed by Bessemer Venture Partners, Mangrove Capital Partners and Benchmark Capital. The company is based in New York and has offices in Tel Aviv.