Vox Technologies introduces exclusive VoxShield warranty and service program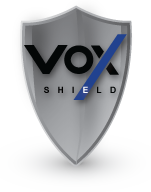 Dallas, TX - June 4, 2010 - In the world of industrial computing and manufacturing automation, products come and go, lifecycles end with little warning or hint of product replacement, and end-users are left with legacy equipment, devoid of any upgrade path or failure protection. That is where the new VoxShield
Industrial Electronics Service Program
from Vox Technologies comes in. With this new warranty, end-users are covered above and beyond any manufacturer's limited warranty and can have peace of mind knowing they are taken care of.
Because Vox Technologies provides extremely customizable solutions for their clients in the fields of
industrial computers and automation
, the VoxShield Service Program is completely customizable as well. End-users can choose their level and duration of service, dictating how quick of a turnaround time they require, whether they want accidental damage protection, if they would like Vox Technologies to perform service calls or preventative maintenance, or even whether or not they would like Vox to order or build a replacement product to act as a hardware spare that would be available in the event of a failure. Each protection plan is tailored to the equipment or project in question, and they stand behind their service with professional, qualified technicians.
Pricing for the VoxShield protection plan varies from project to project, but customers can expect to pay a onetime, personalized fee at the beginning of each renewal period and then not have to worry about any expenses for the length of the warranty. Any equipment, traveling expenses or man-hours are covered - no unexpected costs or bills, ever.
Vox Technologies has also began to troubleshoot and repair products that were not purchased directly from them and allowing the VoxShield Service Program to be applied to those products after they have been repaired or upgraded by Vox. Many consumers of customized equipment that has become unsupported by the manufacturer or reached the end of its lifecycle will find this service invaluable.
About Vox Technologies
Vox Technologies is an industry leading product and solutions provider in the industrial computing and mechanical automation world. Their solutions are based on a "if we don't have it or can't find it, we'll build it" philosophy, with no project being too large, small or technical for their professional engineers to embrace. For more information, visit
www.voxtechnologies.com
.