AndBOT Launches Online Android Marketplace Browser and Ethical App Review Website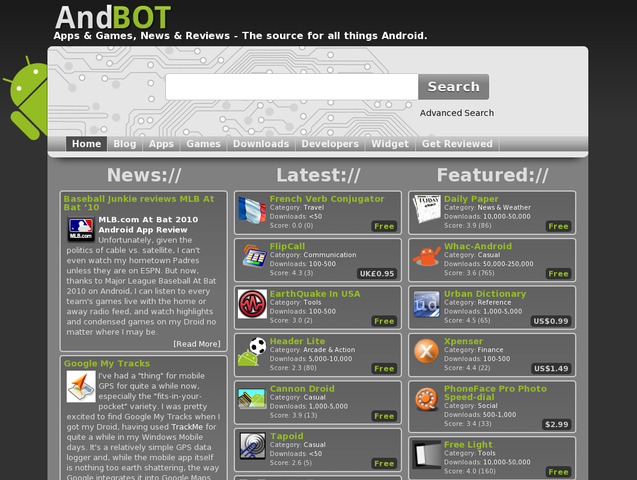 San Diego, CA - June 8, 2010 - Alternative Technologies Labs, LLC announced the launch of their new website, AndBOT.com, dedicated to the Google Android Marketplace. AndBOT.com provides a comprehensive site for browsing/searching the expansive
Android Market
. The site also features independent Android app and hardware reviews.
AndBOT was designed to allow easy online browsing of Google's Android Market. Google's Android website displays only a fraction of the apps available in it's market and provides no search capability. In order to access the complete market, Google requires use of the market app on the phone. AndBOT.com brings the entire marketplace to your web browser and includes functionality for quickly browsing and downloading the best
Android apps
and games. AndBOT.com offers a clean user interface, quick page loads, advanced sorting and filtering and a powerful search engine not available with either the Google app or website. AndBOT.com users are also able to view app ratings and comments from the Android Market.
"Our goal with AndBOT was to improve access to the Android Market. There are over 50,000 Android apps currently available in the market. By providing access to the marketplace from a site that people can access via their browser and improving search/browsing functionality, we have made it easy to find that cool new Android app or game." explains Courtney Ludwin, founder of Alternative Technology Labs and creator of the AndBOT site.
AndBOT.com also includes the latest
Android news, hardware reviews, and app reviews
. AndBOT offers objective and often times humorous reviews of the latest apps and games. AndBOT is committed to honest app reviews; all reviews are independently written by users of a variety of Android phones and, unlike other app review sites, are not masked advertisements.
"We felt a lot of Android app review sites were giving all of the big name apps 5 stars across the board. No one makes a perfect app, and handing out perfect reviews to appease advertisers is doing the reader a disservice," states Sarah Vandervalk, head of the AndBOT App Review Team. "At AndBOT, we are focused on objective reviews which are entirely free of advertiser-influence." AndBOT limits it's advertising to actual ads and featured listings, providing a clear separation between content and advertising.
The AndBOT site looks to set itself apart from the competitors by putting the user experience ahead of profit, and supplementing the Android Market with timely news, hardware, and app reviews. To stay up to date on all things Android visit
http://AndBOT.com/
About Alternative Technology Labs
Alternative Technology Labs, LLC (AltTechLabs.com) is a
custom software development
shop that specializes in building successful web and mobile applications. Alternative Technology Labs is composed of a small team of highly talented designers and developers. AltTechLabs uses agile development strategies, leverages open source technology, and specializes in high performance web, database, mobile, and e-commerce applications.
Email Alternative Technology Labs, LLC