San Antonio is About to Reduce their Cardboard Footprint, Finds Ecobox.com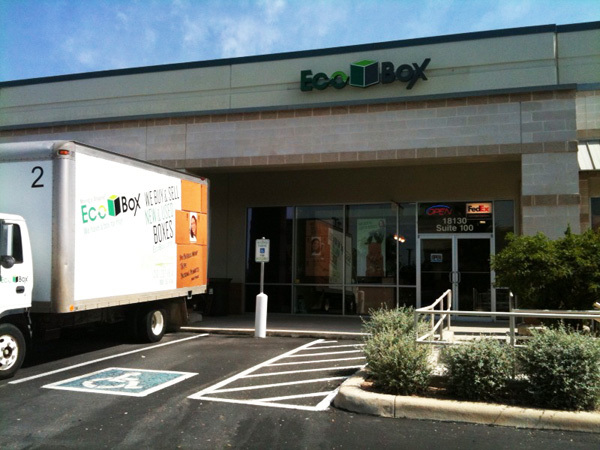 EcoBox, the leading supplier of new and
used moving boxes
and
shipping supplies
in Central Texas has just opened a
new store in San Antonio, TX
. "We think San Antonio is a great city and we look forward to helping it reuse as many boxes as possible reducing the amount of cardboard that ends up in San Antonio landfills. We call it reducing your Cardboard Footprint." explains Sam Lee, Managing Partner. EcoBox buys back used cardboard boxes from homeowners who have just completed a move and then resells the used boxes via its retail stores and ecommerce website. Used boxes typically sell for 40% less than new boxes ! EcoBox has reused over 1 million boxes since it's founding in 1994. Any boxes that are too worn or damaged to be reused get recycled and made back into new boxes. Most of the new moving boxes sold by EcoBox are made of 100% recycled cardboard. "We really try to minimize our impact to the environment as well as the impact to your wallet by reusing boxes" explains Lee.
In addition to new & used moving boxes, EcoBox stocks a large variety of shipping materials like biodegradable bubble wrap, biodegradable peanuts, stretch wrap, tape, and 500 other shipping supplies making EcoBox a convenient source for eBay customers, Moving Companies, Self Storage companies, and anyone who ships items via the internet. "By being located at US Hwy 281 and 1604, we want to be convenient for our wholesale and retail customers to stop in and purchase any items they need in any quantity. If customers can't stop by they can order from our website at
www.ecobox.com
and get free delivery with a $95min order. Used boxes delivered to your doorstep. We want to be convenient, economical, and ecological", explains Bryan Franklin the store manager.
EcoBox was founded in 1994 in Austin, TX with a stack of used boxes, a Buick Riviera, and a storage shed. It appears that the days of the storage shed are long gone but their commitment to reusing used boxes has not diminished. "We have reused millions of used boxes since our founding. By reusing just 1,000,000 boxes means that we have saved over 7,752 trees, saved 41,188 cubic feet of land fill space, saved 12,000,000 gallons of water, and 1650 barrels of oil. We are really excited to help San Antonio reduce its cardboard footprint and save our customers money in the process. It's a win win." explains Lee.
EcoBox is also having some fun with the opening of their new store as they invite anyone to come into the store and guess the total # of boxes they have in stock. Guess correctly and you could
win an Apple iPad!
Visit the store for more details.
EcoBox plans to open 5 more stores in the San Antonio area in the next 3 years.