Turtle Beach® to Recognize the Best Sounding New Games of E3® 2010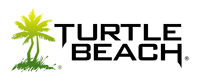 Elmsford, N.Y., June 9, 2010 – Turtle Beach, a leader in premium gaming headsets and audio entertainment accessories, announced today that it will seek out and actively promote outstanding examples of immersive in-game audio, starting with new releases debuting at this year's E3 2010. Gaming fans will get to witness the onsite adventures of Turtle Beach's how-to and viral video star Matt Romano as he visits with publishers in their booths at E3 2010, in search of the latest console and PC games that feature the best sound effects. Matt will be armed with one of Turtle Beach's hottest setups – Turtle Beach Ear Force PX21 headphones running through the new Turtle Beach Ear Force® DSS 7.1/5.1 Dolby digital surround sound processor.
At the E3 show, Matt will look to "plug in" directly to publishers' XBOX 360®, PlayStation® 3 or PC demo stations and immerse himself into the very best in-game, digital surround sound audio experiences he can find. His E3 video exploits will be posted online at Turtle Beach's new website and on the Turtle Beach YouTube channel for fans to check out, share and comment on.
"No other headphone company has the legacy and expertise in gaming audio that we have." commented Turtle Beach Vice President of Marketing and Business Development, Michael Arzt. "Our state-of-the-art headphones and accessories have put more people inside more of the world's top game titles than any other brand, elevating the experience to new levels of hyper-realism. Top game developers work overtime to perfect their audio tracks and environmental cues, and Turtle Beach products maximize these experiences, making them truly exceptional. E3 represents a great opportunity for us to turn the attention back on them in a fun and relevant way and give our mutual fans some guidance for choosing both great playing AND great sounding games to buy and play."
Turtle Beach actively encourages game developers and brand managers to welcome Matt and his Turtle Beach video crew into their booths at E3 for an opportunity to have their hottest titles featured. Companies wishing to schedule a confirmed E3 visit by Matt in advance may do so by contacting Doug Wright at
dwright@giles.com
as soon as possible. All showcased titles must be XBOX 360, PS3 or PC titles.
Back at the Turtle Beach booth (LACC, South #417), several innovative new products will be unveiled and visitors will be able to experience the game-changing, immersive qualities of the company's offerings, including the new Ear Force DSS processor and the full line of acclaimed Ear Force headphones.
Turtle Beach premium gaming headphones and PC audio accessories are available at
www.TurtleBeach.com
, as well as other online retailers and major US and Canadian retail stores such as: Best Buy, GameStop, Amazon.com, Newegg, Meijer, Best Buy Canada, The Future Shop and other fine retailers. Turtle Beach products are distributed in Europe by Mad Catz Interactive, Inc. (AMEX/TSX: MCZ
www.madcatz.com
.)
Turtle Beach (
www.turtlebeach.com
) designs and markets premium audio peripherals for personal computer and video game platforms, including its acclaimed line of Ear Force gaming headphones and headsets crafted for XBOX 360® and PS3™ game consoles and PC games. Turtle Beach's Ear Force X41 Wireless Headset is Official XBOX Magazine's "2009 Peripheral of the Year." Turtle Beach, headquartered in Elmsford, New York, is a brand of Voyetra Turtle Beach, Inc., which has been at the forefront of music and audio technology for more than three decades and is recognized as a pioneer of today's PC audio industry.
Turtle Beach and Ear Force are registered trademarks of Voyetra Turtle Beach, Inc. XBOX, XBOX 360 and XBOX LIVE are registered trademarks of Microsoft, Corp. PS3 is a trademark of Sony Computer Entertainment, Inc. All other trademarks are property of their respective holders and are hereby acknowledged.