Furnished for Education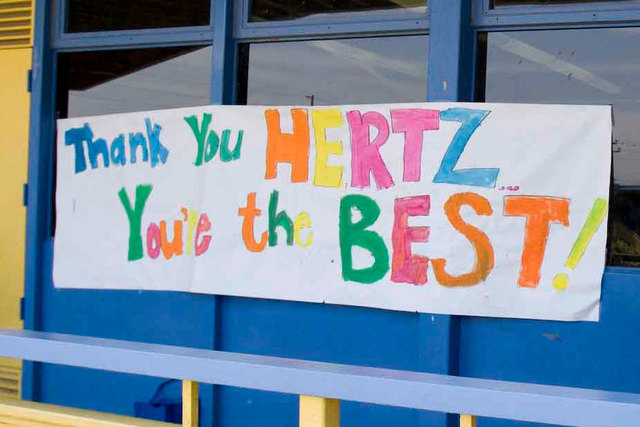 In a school building that dates back to the 1960's, Mrs. Belki McConnell and thirty-six fourth graders had been struggling to learn with the original desks and chairs, many of which were cracked, too small, instable and hazardous. Years ago, Mrs. McConnell's own desk and chair had broken beyond repair and was never replaced. They appealed to their school district for new
classroom furniture
but financing wasn't available. Dismayed yet determined, they decided to raise the money themselves.
In search of a discounted price, Mrs. McConnell sent a letter explaining their situation to Hertz Furniture. Touched by their story, Hertz Furniture responded with good-will and
replaced all of the classroom furniture
as a gift.
"No matter the economic situation, or whether the lesson is math, language arts or personal empowerment, all students deserve a safe and comfortable environment in which to learn," says Mr. Saul Wagner, President of Hertz Furniture.
After working up a design to maximize the space available, Hertz Furniture partnered with Remington Moving and Storage, and delivered new, comfortable and space-saving chair-desk combo units to the previously over-crowded classroom. A teacher's desk, chair and sturdy steel filing cabinet were also provided, in addition to an activity table and chairs for group study and a bright colorful rug to add cheer to the classroom.
Installation of the
new classroom furniture
attracted attention beyond the school walls and the event was covered by local media. Broadcasting live from the school were reporters from KCAL9, the CBS Los Angeles affiliate, and popular DJ Bigg P-Wee from KJLH 102.3 FM.
The cost of the new classroom furniture was covered by Hertz Furniture – seeing the tears of joy on the faces of staff and student alike was priceless.
If you'd like to help
sponsor a classroom furniture donation
for a group of deserving students, please contact
amyhoffmann@hertzfurniture.com
.
About Hertz Furniture
For over 40 years Hertz Furniture has supplied schools, religious institutions, businesses and government offices with top quality commercial furniture and superior customer service. A wide selection of eco-friendly furniture, free project planning and design services and the best warranties in the industry are just a few of the ways that Hertz Furniture provides added value to its customers. For additional information on Hertz Furniture and its extensive line of products, please visit
www.HertzFurniture.com
, speak to a furniture specialist at 800-526-4677, or send an email to
linda@HertzFurniture.com
.