Website Builder Wix Promotes Users' Content in New Community Media Section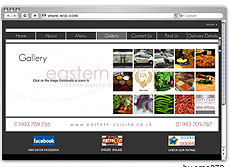 If you have access to the internet, you can create your own website. Nothing else is required thanks to Wix's
free website
building software. With its sleek drag & drop interface, Wix cuts coding out of the process of website creation. What started as a small start-up company in 2006 has grown to host an international user-base of over 4 million Wix users. People around the world are using Wix to break the barriers of web design and to promote themselves and their organizations online: a channel that previously required familiarity with coding languages.
The heart of Wix is found in both the editor itself, and the gallery of free Flash templates Wix offers to users as a means to jump-start the design process. Users can click on the design elements of the templates in order to substitute the content found on the templates with their own text and media. Wix constantly churns out new and improved versions of the
website builder
, and fills both the templates with new content, offering users endless ways to freshen up old sites, or create dynamic brand new ones.
Now, Wix is taking it a step further, by featuring donated work by designers, artists and photographers right inside the editor. Eye-catching images collected from artistic sources all over the web have found a home at Wix, where they can be dragged and dropped onto user sites. The featured work can be added to Wix websites from a special new "Community" tab inside the media center of the
free website builder
. Some of the contributors' work was even included inside Wix's latest batch of website templates, released just last week.
Credit is given to each contributor through links in each work to the artist's own portfolio or professional website.
Artists Community Manager at Wix, Eden Meiman, comments, "Many of our users are themselves professional photographers, designers and artists. In one of our latest searches for fresh content, a brilliant idea came to us. We had an untapped resource of new content right underneath our noses…our users!"
Photographers and designers are invited to submit portfolios to Wix for the chance to
become a Wix "Photo Pro"
, and have their media content featured. This is an exciting opportunity for everyone involved; Wix users gain access to a rich variety of content, and the "Photo Pros" gain a huge boost in online traffic to their professional websites and portfolios.
Says Meiman, "It's a total win-win!"
Wix is funded by Benchmark Capital, Bessemer Venture Partners and Mangrove Capital Partners, and is located in New York with offices in Tel Aviv.