Pawpress Launches New Book, "Wine, Women,Whispers," By Alon Mintz, aka Rocky Mintziano, Adam Savage, Ali Mintez, et. al.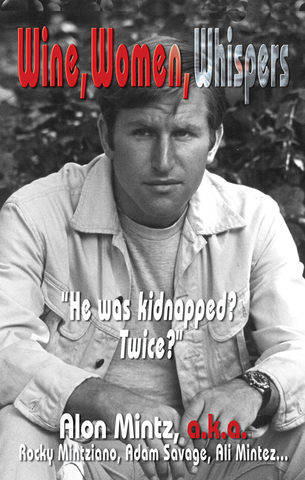 Los Angeles, CA, June 23, 2010. "Wine, Women, Whispers" – the book of tales of a fearless man…who was kidnapped – twice. Almost killed by the best hospital in London…A boxer…Serial entrepreneur…Lover of ladies, food and wine — will be introduced by Pawpress June 26 at a private gathering in Westwood.
The stories in "Wine, Women, Whispers" cover the 55 countries, intriguing and distinguished people author Alon Mintz has encountered so far in his seventy years, including European and Asian royalty, plus the Hollywood kind. They also demonstrate the value and actual joy of facing challenges head on. Taking his father's advice to heart, Dr. Mintz has consistently turned adversity to triumph. The reader is left with his conviction, "Every day is another day in paradise, a gift. To be lived fully, each moment."
Photos in the book include Dr. Mintz with Muhammad Ali, Princess Margaret, financial and economic council delegates from different countries, prominent friends of the author who were bumped off later in a foreign country, plus paraphernalia from businesses he headed, including waterbeds, bedpans and peppermint sticks, in a manner of speaking.
Susan Pinkus, former Director of Polls at the Los Angeles Times, writes, "'Wine, Women, Whispers' is about a quirky and very interesting man of the world…I loved the homage to his mother, which is very tender…The book makes me want to know more about the author…and kind of envious that I haven't done half the things he has in his lifetime."
Artur Ribeiro, screenwriter and director, said: "Dear Alon – I've got a screenplay to finish but couldn't help starting to read right away. It reminds me of Phillip Roth. I like the way you travel back and forth in time, connecting the stories with an emotional link rather than a strictly chronologic one. Congratulations on a Herculean feat. Ate lago, Artur"
A private event is scheduled June 26 to honor the author and debut his book. Present will be Alon Mintz and whichever a.k.a.'s show up, autographed copies of a "captivating" read (Moty Zahavi, actor, writer, former Israeli soldier), and food, wine, and music, in a beautiful venue in Westwood
FOR FURTHER INFORMATION: For more information about the book including excerpts, about the author, review copies of the book, or Pawpress, see
www.InasPawprints.com
. MEDIA ONLY: e-mail editor/publisher Ina Hillebrandt at
InaH@InasPawprints.com
, or call 310.497.5653. NOTE: All books are available to the public on Amazon.com, and other fine online bookstores, and by asking at readers' favorite bookstores.