Vuvuzela Killer aka AVS Audio Editor 6.1: Enjoy True World Cup 2010 Videos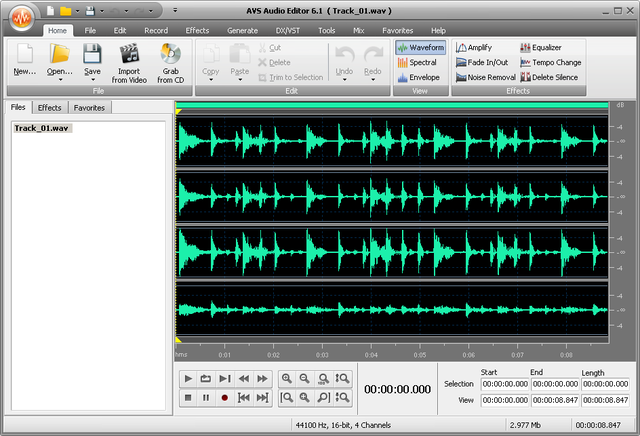 Not all TV broadcasters mute irritating vuvuzela shrieks when showing World Cup 2010 matches. New AVS Audio Editor effectively bans the annoying noise with specially developed Vuvuzela Remover filters.
Online Media Technologies Ltd., the owner of AVS4YOU Project at
www.avs4you.com
, releases today a special edition of AVS Audio Editor 6.1 with the extra Vuvuzela Remover feature.
The Vuvuzela Remover feature contains 6 filters adjusted to reject frequencies typical of this African horn. Software engineers designed the algorithm in such a way that it effectively reduces irritating noises up to 99% without damaging audio quality.
AVS Audio Editor 6.1
allows you to edit audio directly in your videos without extracting and saving an audio track as a separate file. You simply open your videos and kill vuvuzelas with one click.
The
Vuvuzela Remover
can be applied in combination with the intelligent Noise Removal filter. You indicate the noise type and save it as a sample. Basing on this sample, AVS Audio Editor 6.1 will automatically search, detect and remove similar disturbances such as horn roars, whistles, hisses, etc. from other audio- and video files.
Tatyana Danilova, PR Manager, Online Media Technologies Ltd.: "One feels real adrenaline rush while yelling and blaring in the stadium. In a room, where there's not so much space, vuvuzela wheezes become hard to endure. AVS Audio Editor 6.1 deletes excess noises without mercy."
Specially for football fans, Online Media Technologies Ltd. also added a detailed guide on how to remove horn noises at
http://www.avs4you.com/Guides/How-to-mute-vuvuzela-horns.aspx
The new version of
AVS Audio Editor
has acquired a completely modified and improved program engine, so that the process of audio editing, recording and mixing has gained additional operational speed and higher quality.
AVS Audio Editor 6.1 is an integral part of AVS4YOU software suite. The trial version of AVS Audio Editor can be downloaded and tested for free. Purchase of Audio Editor 6.1 provides access to all multimedia tools under AVS4YOU brand. Online Media Technologies Ltd. offers two subscription plans: one year subscription for 39 USD or unlimited lifetime subscription for 59 USD.
Notes for editors:
Founded in 2004 and based in Harley Street, London, Online Media Technologies Ltd. is an IT company that specializes in developing video and audio products that simplify the work of end-users and professional content developers alike.
Email Online Media Technologies Ltd.