Online Masters Degree in Psychology: Online Degree Rankings 2010 Released by GetEducated.com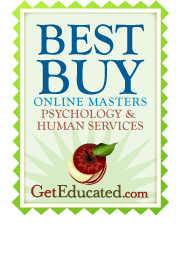 GetEducated.com
has published its distance masters rankings of Best Buys for the online master degree in psychology. The online degree rankings 2010 are based on a review of 35 regionally accredited online graduate schools offering 72 distance learning psychology degrees.
Online masters degrees in human services, counseling psychology, clinical psychology, school psychology, forensics psychology, social work, and social psychology and social services were also surveyed.
The online education survey found that the average college cost, tuition and distance education fees included, for an online masters degree in psychology, was $22,666.
East Carolina University (NC) ranked as the least expensive online psychology school for its masters in general psychology. North Carolina residents will pay only $4,860 for this distance learning psychology degree. Non-residents will pay more: $20,040.
The most expensive online masters university for human services professionals was the University of Southern California for its online masters programs in social work (MSW) ($52,161).
GetEducated.com's list of the

Top 39 Best Buys Online Masters Degree in Psychology
is posted free on the online education research firm's website.
Online Masters Program Trends
- Private Online Psychology Schools Dominate
Of the 35 accredited online masters university programs in psychology, counseling, social work, and human services surveyed by GetEducated.com, 20 operate as private online colleges.
- Tuition, Fees, Distance Learning Costs Rising
By comparison, two years ago, the average cost for an online masters psychology or an allied human services area came in at $19,000. In 2010, distance degree masters costs came in at $22,666, almost 20 percent higher.
Costs are being affected by the entry of more prestigious residential schools, such as the University of Southern California's MSW program, and by the entry of more private schools, both non-profit and for-profit.
Online graduate students can review and compare all accredited distance learning psychology programs and Online Masters Degree in Psychology options by cost, admission criteria, and career majors by searching GetEducated.com's
free directory to the best online graduate programs
.
Email GetEducated.com, LLC