AM PM Los Angeles Appliance Repair Published Tips on Repairing Dryers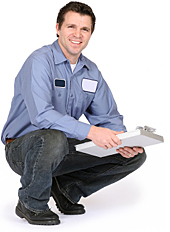 AM PM
Appliance Repair Los Angeles
office has published tips for maintaining the health and long life of home dryers. A few simple adjustments to the way a dryer is used or maintained will greatly increase its lifespan. For Los Angeles residents who loathe calling their local
dryer repair
men, following these tips can keep their dryer in top shape.
Tip #1: The Lint Filter
Many people know that cleaning out the lint filter after every drying cycle is important, but few people actually do it. Whether out of forgetfulness or procrastination, allowing the lint filter to gather prevents the dryer from "breathing". As the lint builds up, the dryer has to work harder and harder to vent out its moist air. The moist air prevents your dryer from working efficiently, and will eventually burn out the heating unit in the dryer, leading the owner to dial up their Los Angeles dryer repair company.
For people who like to use dryer sheets to make their clean, dry clothes smell nice, be aware that dryer sheets eventually place an invisible film over the lint filter mesh. Even if the filter is clear of lint, that invisible film prevents it from working correctly.
Appliance repair
can be avoided by simply washing the filter with hot, soapy water with an old toothbrush.
Tip #2: Wipe Down the Inside of the Dryer
Using a damp rag to wipe out the inside of the dryer will keep things like lint and pet hair from accumulating inside the dryer. Again, this excess lint and hair can clog the dryer's venting system, leading to another Los Angeles appliance repair call.
Tip #3: Keep the Home Pest-Free
The enemy of every dryer repair man is the mouse. Mice like chewing on just about anything they can find – including electrical wires running into dryers. Their chewing can lead to dangerous sparks coming from the dryer's wires, and these sparks can cause a fire in the room where the dryer is kept. Not only will a small fire destroy the dryer, it will also destroy the laundry room – and perhaps the whole house! When it comes to appliance repair, Los Angeles residents would do well to remember that keeping their home rodent-free will also keep their appliances in good working order.
AM PM
Los Angeles Appliance Repair
also services refrigerators, washers, freezers, kitchen ranges, ovens, air conditioners, microwaves, dishwashers and other major appliances. Your repair will be scheduled within 24 hours, or at the time of your convenience. For more information visit their website at
www.AMPMApplianceRepair.com
or call (800) 343-6011
Press Release by
Avital Web
, SEO Company
Email AM PM Appliance Repair