Cater a 4th of July BBQ with Bubbalou's Bodacious BBQ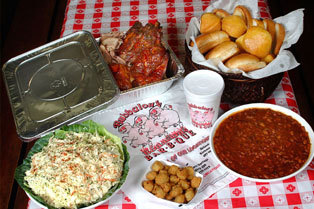 This 4th of July weekend, cater a barbecue with Bubbalou's BBQ catering service or pick up a party pack full of delectable side items and savory meats infused with the distinct taste Bubbalou's is known and loved for.
"There is nothing like Bubbalou's BBQ. Our meats are slow cooked over our wood burning pit for a taste like no other bbq in town. It's definitely a treat your family and friends will love this 4th of July weekend," said Bucky Weston, owner of Bubbalou's in Altamonte Springs, Florida.
Florida has been experiencing some very hot days this Summer and the last thing anyone should be doing is sweating over a hot grill. Forget the flames and just hire Bubbalou's
Orlando Catering
or order a party pack to go. Orders can be customized and include everything from the main entree, side items, beverages and dessert.
"On your day off, you deserve to kick back and relax," said Weston. "Let our staff take care of you at a catering event. We can also put together a customized
party pack
that you can call-in ahead of time and pick up when it's convenient for you."
Bubbalou's has received critical acclaim locally and nationally by being consistently voted the Best BBQ Restaurant in Orlando and Central Florida by Orlando Sentinel and Orlando Magazine. Bubbalou's has also been acknowledged by USA Today, and the Sunday, New York Times as one of America's Top BBQ Restaurants.
View their delicious catering menu then contact Bubbalou's to cater an event or pick up a Party Pack for a 4th of July barbecue. Visit Bubbalou's on the Web at
www.bubbalouscatering.com
About Bubbalou's BBQ:
Since 1986, Bubbalou's has been serving Central Florida's best BBQ. The winner of numerous food awards including The Orlando Sentinel Reader's Poll Best BBQ 14 years in a row, Best BBQ Dive in America by the Food Network and Best BBQ by Orlando Weekly readers, Bubbalou's BBQ Restaurants also offers award-winning catering service for Orlando and Central Florida. Bubbalou's catering menu has various barbecue favorites from Hamburgers to their famous barbecue Chicken, Beef, Pork, and mouth-watering Ribs, all smoked and cooked to perfection. In addition, customers receive Bubba's best Baked Beans, creamy Cole Slaw, and oven-baked Brownies. Bubbalou's Catering service is second to none for the Orlando and Central Florida area. Find out how Bubbalou's Catering service can liven up any office party, wedding, picnic, or other special event.
Contact:
Bucky Weston, Owner
Bubbalou's Bodacious Bar-B-Q - Altamonte Springs, Florida
Phone: (407) 965-1286
Catering Phone: (407) 966-4788
Joe Clark, Manager
Bubbalou's Bodacious Bar-B-Q – Kirkman/Conroy, Orlando, Florida
Phone: (407) 278-8770
Catering Phone: (407) 278-4044
Boo McKinnon, Director of Catering
Bubbalou's Bodacious Bar-B-Q – Winter Park/Lee Rd
Phone: (407) 628 – 1212
Catering Phone: (321) 280-3536