Storm's Free PDF Download Boosts Awareness of Lightning Protection Products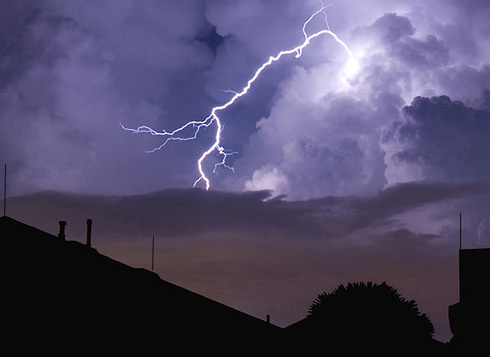 StormGrounding.com now offers a free PDF download that provides a quick overview of lightning protection products used in residential installations. The colorful two-page PDF gives customers an easy-to-follow summary of copper and aluminum
air terminals (or lightning rods)
used in residential home installations, mounting bases, electrical grounding cable, cable fasteners, splice connectors, clamps, copper clad grounding rods and Storm's latest lightning protection product, the intersystem bonding termination (IBTB) that grounds outside service connections.
StormGrounding.com is an online retail store created by Storm Copper Components, Co., which specializes in
copper and other electrical grounding products
used by electrical contractors, journeymen and engineers. The online store has enjoyed a surge of orders for lightning protection products since marking down the price of its top selling lightning protection booklet late in 2009.
The booklet: The Standards of Practice for the Design, Installation and Inspection of Lightning Protection Systems was compiled by the Lightning Protection Institute (LPI), a non-profit organization steeped in professional training and quality assurance. "The book contains information that can help electrical contractors in understanding the value of lightning protection and proper system installation, so we wanted to get it into as many hands as possible," according to Carol Howard, Storm Copper President. "The new PDF is an add-on meant to condense lightning protection product information in residential applications," she said.
The Lightning Protection PDF can be downloaded free at
StormGrounding.com's online lightning protection products page
. The LPI booklet had been available for as high as $49.00, Storm continues to offer the book for $12.99, available at StormGrounding.com
The booklet's research was conducted by the Lightning Protection Institute (LPI), with findings that indicate how well-designed and professionally installed electrical grounding systems can shield buildings, trees, electronic equipment, and then reduce personal injury from lightning. The information in this booklet also reflects an appreciation of lightning protection products, installation, and the importance of consultation with manufacturers, users, inspection authorities, and others having specialized experience.
Much of the book's content has multiple uses for electrical contractors involved in residential, civic and industrial lightning protection, not only as a self-contained guide but also as a planner that could lead to creating more effective lightning protection systems. The booklet would also help a homeowner in hiring a certified installer or electrical contractor.
LPI adopted the latest National Fire Protection Association (NFPA) codes in the booklet, including the NFPA 780 Standards, content of considerable value to lightning protection installers, electrical journeymen and contractors. Contents include System Certification, Inspection and Maintenance, Main and Down-lead Conductors,
Electrical Grounding
and Interconnection (Bonding).
Storm Copper Components, Co. is a leading North American manufacturer of custom electrical connectors for the wireless, telecommunications, power and alternative energy markets, serving OEM's, electrical contractors and system installers for almost 20 years.
For more information, or to schedule an interview with Carol Howard, please call Dave Krikorian at 1-888-334-2177 or email
dkrikorian@stormcopper.com
.
Email Storm Copper Components