Environmental Campus to Break Ground on July 8 US Senator Michael F. Bennet to Headline Event Campus Poised to Become One of First 100 LEED Platinum Projects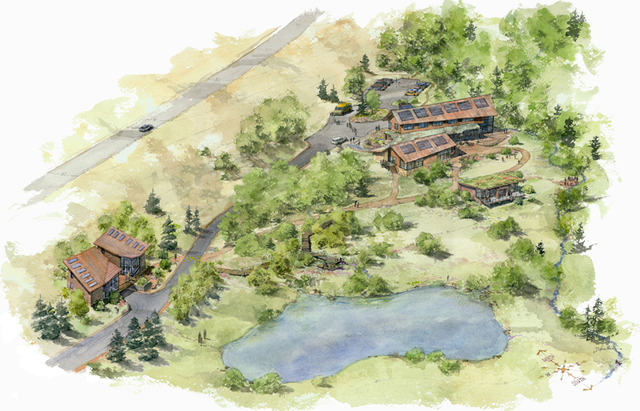 Walking Mountains
(formerly Gore Range Natural Science School) announces a Ground Breaking Ceremony at the Buck Creek Campus, future home of the science learning center. The event will take place on July 8th at 4:00 PM on the campus at the corner of Nottingham and Swift Gulch Roads in Avon. Campaign supporters, as well as state and local representatives will be on-hand to celebrate the success of a capital campaign effort that has raised $8.5 million to-date, and to learn the vision for raising an additional $1.5 million to complete the project. U.S. Senator Michael F. Bennet, will address the gathering, underscoring the importance of this project and Colorado's commitment to education and green building.
The Buck Creek Campus
is a five-acre site with a stream, wetlands, pond, aspen forest and National Forest access. The entire campus will incorporate green design and sustainable building practices with an opportunity to attain LEED Platinum Certification; potentially becoming one of the first 100 LEED* certified Platinum buildings in the world. (*Leadership in Energy and Environmental Design.)
"This is an exciting moment," says Markian Feduschak, Executive Director, "Our new campus will greatly enhance our reach. The classrooms, laboratories, exhibits and year-round trail system on our campus will offer a backyard laboratory where children can participate in exciting, hands-on programs that make learning science fun. It adds a real-world component to supplement the science curriculum in local schools. We will also offer training to science teachers, working together to lessen achievement gaps, and raise literacy and test scores."
The campus itself will be a teaching tool where the latest trends and technology in environmentally-sensitive land design and green building can be showcased. Sustainable design elements include highly insulated walls and windows, grass covered rooftops, solar panels and a ground source heat pump. Walking Mountains plans to document the entire construction project and will monitor building performance once the campus is open for business in order to access their LEED rating.
"Green design has been integral to the project from the start," says Brian Sipes, principal at Zehren and Associates, the project's lead architect, "every decision about the campus – from the orientation of buildings to the sourcing and selection of materials – is aimed at minimizing impact and maximizing sustainability."
The campus is comprised of numerous outdoor learning spaces and four eco-friendly buildings – two are fully funded and two require additional resources:
- The Mountain Discovery Center will house the Visitor's Center, Interactive Exhibits and Staff Offices;
- Community Hall and Base Camp will be used for educational lectures and as a gathering space for field-based programs;
- The Meadow Learning Studio will provide additional classroom space and laboratories to enhance field science programs; and
- Educator Residences are planned to house graduate students and naturalists in the Valley to teach Walking Mountains programs.
"The Buck Creek Campus will become the environmental heart of the valley," says Alan Danson, Board Member and Co-chair of the Capital Campaign, "Oscar and Argie Tang donated the land and the campaign got underway with lead gifts from Jay and Molly Precourt and Kathy and Erik Borgen. We are looking to the community to help us bring this world-class environmental learning center completion."
For more information about the Capital Campaign and Buck Creek Campus Ground Breaking, or to schedule a tour of the property, please contact Doug Dusenberry at
dougd@walkingmountains.org
or (970) 827-9725 x21.
Walking Mountains offers hands-on science education programs that take children and adults into nature, awakening a sense of wonder and inspiring environmental stewardship. Learn more at
www.walkingmountains.org
.