Wix Lounge Opens Free Designing Space for Creative Professionals to Meet, Work and Socialize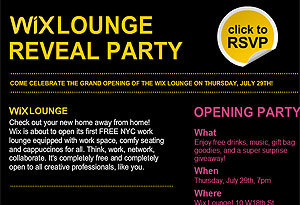 Wix is building a home-away-from-home for designers, freelancers and other creative professionals right in the heart of Manhattan's hip Chelsea neighborhood. The Wix Lounge will host free Wi-Fi, coffee and plenty of comfy seating, perfect for designers to get their work done, meet up with clients and collaborate on projects with one another. The Lounge will be open to the public following the Wix Lounge Reveal Party, which will take place at the end of July.
The company making this all possible, Wix.com, is an industry leader when it comes to web design. Wix is an intuitive, graphic-based
website builder
, with a drag & drop interface for the quick and easy creation of unique, high quality Flash websites. Users who sign up at Wix.com gain instant access to hundreds of
free website
templates, all of which are fully customizable. Templates are divided by category to suit a variety of niches, the most popular of which include Fashion & Lifestyle, Music, Photography, Business and eCommerce. Adding one's own photos, music files, company logo and content is as easy as clicking and dragging elements in Wix' free website builder, making Wix the perfect solution for entrepreneurs, artists and freelancers looking to enhance their presence online.
For a budding fashion designer or a freelance graphic artist, the website builder is clutch. All websites built with Wix are search-engine friendly, with xml files contained within each site's source code.
To boost awareness of this innovative and dynamic design tool, and to give Wix users a physical tool on which to build client and colleague relationships, the company is opening the Wix Lounge to not only Wix users, but to all creative professionals conducting business in and around Manhattan.
The director of the Wix Lounge, Victoria Monsul, comments. "We wanted to make a space for the free exchange of ideas, where creative minds can get their work done in a design-oriented environment."
An exciting line-up of cocktail parties, promo events, web design workshops and more will be hosted at the Lounge. Tutorials on
how to make a website
will be offered, on topics ranging from web design to online promotion.
RSVP to the
Wix Lounge Reveal Party
, and join hundreds of designers, artists and web industry members on Thursday, July 29th at Wix' NY office, located at 10 West 18th Street, New York, NY. Doors open at 7:00pm. Free drinks, music, gift bag goodies and surprise giveaways will be featured.
Says Monsul, "Whether it's over a cup of coffee or a cocktail, the connections made at the Wix Lounge will be inspirational."
For more information about the Wix Lounge opening or Reveal Party, contact Victoria Monsul at Victoria[at]wix[dot]com.
Wix.com was created in 2006. The company released the open beta version of its website builder in June of 2008. Wix is backed by investors Mangrove Capital Partners, Bessemer Venture Partners and Benchmark Capital. Wix is based in NY with offices in Tel-Aviv.