DevHub.com Turns Building Your Website into a Game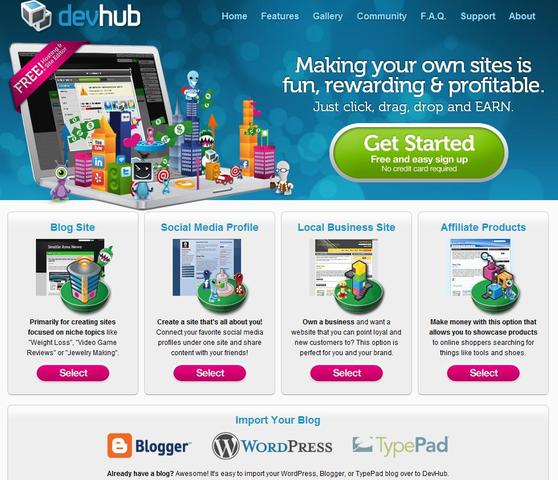 EVO Media Group makers of
DevHub.com
, a free website builder, today announced a new version of its popular service. With this update DevHub.com makes it fun and engaging for you to build a website by turning the website building process into a game.
New blogs and websites pop up everyday, yet as time goes on, many of these once popular sites lay vacant across the web because their creators lost interest. All had hopeful ambitions of being the next great tech, food, or hobby site. DevHub addresses this problem by making it simple, easy and fun. Creators stay connected and engaged while continuing to grow their online empire.
"We want to be the hub for all your sites… from your blog to your social media to your business," said Mark Michael Co-founder.
DevHub allows you to select the type of site you want to build such as social media page, local business website, blog website, and affiliate websites. From there DevHub the game kicks in and guides you through building your site with a series of small tasks…i.e. change the background color; which then get awarded point and coins.
DevHub is a guided online website builder with social media tie-ins and a game-like rewards layers complete with marketplace. DevHub users get points and DevHub coins for building pages, adding a blog, or publishing content to and from users' social media sites. Users can spend coins in at the Marketplace and buy site upgrades (templates), discounts on services (logo design) or merchandise.
"It's totally unique," said Geoff Nuval EVO Media Groups CEO/ Co-founder and self proclaimed 'game-master.' "Yeah, it's a website builder but it's also a game. You can play it and when you're done you've got something real. Something you can make money with or share with your friends. You play a game like Farmville and you've got what? A virtual farm?"
Additionally, the entire platform is able to be utilized for companies looking to engage their own user base to create related sites and user generated content.
"The EVO Media Group's main purpose is to apply the newest Internet technologies and gaming mechanics to previously mundane and daunting platforms," said Nuval. "The result is a lower barrier to entry, users being incentivized to carry out tasks through completion, and a sense of fun while creating value. We call the process 'gamifying.'"
Users of DevHub.com have built over 500,000 sites and growing.