Noodle Producer Uses VAC-U-MAX Pneumatic Conveying System to Handle 20 Tons of Bakers-Like Flour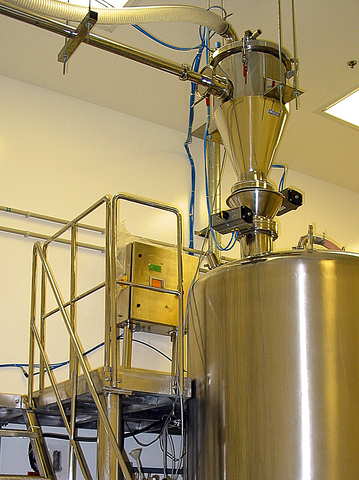 When Brian Miller, Plant Engineer for Mrs. Miller's Homemade Noodles Ltd., which produces 40,000 pounds of noodles per week, switched from handling 50-pound bags of flour to handling 2000-pound bulk bags, he knew he would need to integrate a new
pneumatic conveying system
into his process. The former conveyor—an older pressure-based system which transported the flour from a hopper through a volumetric feeder and finally to a mixer—would no longer satisfy the company's needs.
Mrs. Miller's Homemade Noodles Ltd., located in the middle of an Amish community in Fredericksburg Ohio, is a family-owned and operated business dedicated to producing preservative-free, homemade-quality products with the best ingredients, for over 30 years.
Miller's goal was to implement a pneumatic conveying system that would efficiently convey 20 tons of very fine flour per week, eliminating the need for manual filling.
"The flour we use is like bakers flour and it is difficult to convey," says Miller. "It sticks to a lot of surfaces and if you have leaks in your system you get a lot of dust."
After some research, Miller found he could achieve this goal with a
pneumatic conveying system
from VAC-U-MAX, a pioneer in vacuum solutions since 1946, and one of the few suppliers who routinely designs and builds custom and semi-custom pneumatic conveying systems and support equipment for conveying, batching and weighing dry materials.
While fine powders may pose conveying issues for some conveyor manufacturers, because VAC-U-MAX has tested thousands of difficult to convey materials and is an expert in material characteristics, they are fully equipped to meet customer demands. One way that VAC-U-MAX handles problems with fine powders is by applying a high polish finish to the pneumatic conveyor systems' interior and exterior, reducing the amount of powder sticking to the system.
Since the inherent nature of pneumatic conveyor systems prevent loose powder from becoming airborne, it makes for a cleaner and safer environment all around. Miller says, "the system is completely enclosed. It's been very good that way. No mess."
Although the system has reduced some housekeeping time, Miller, who is committed to continually evaluating and improving safety in their plant, says, "the bulk of the gain is safety and efficiency."
"The new system is safer because it accommodates the super sacks better, and feeds the product directly from bags without manual labor," he explains. "Before, our guys were climbing up to a big hopper and would fill it by hand sometimes. Just more dangerous."
Overall, Miller says, "the VAC-U-MAX system runs more efficiently than the other system did, is quieter, and doesn't take as much space because we could eliminate the big hopper, and it is safer."
For more information about a VAC-U-MAX
pneumatic conveying system
or industrial vacuum cleaning solutions, write to them at 37 Rutgers Street, Belleville, NJ 07109; call (888)241-6992 or (973) 759-4600; e-mail
info@vac-u-max.com
; or visit their website
www.vac-u-max.com
.