Perst Lite Embedded Database Chosen for New Code Generator to Ease Software Development on BlackBerry Smartphones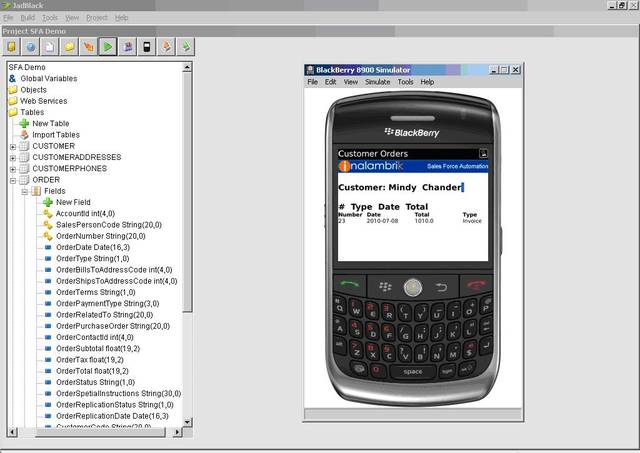 A South American firm specializing in software for BlackBerry smartphones, frustrated in its search for rapid development tools, is launching its own solution, called JadBlack (Java Accelerated Development for BlackBerry). A key JadBlack feature is its use of the Perst™ Lite all-
Java embedded database
from McObject® to add record storage, search, retrieval and other highly efficient database features to mobile business applications for BlackBerry devices.
INALAMBRIK, based in Guayaquil, Ecuador, plans to introduce JadBlack this fall during the Latin American BlackBerry Collaboration Forum, which it is co-sponsoring. A Blackberry Alliance Member, INALAMBRIK provides location-based services and sales force automation on smartphones for companies with mobile workers, aided by an exclusive agreement with the main local mobile operator (an América Móvil company). INALAMBRIK also offers I Track Now, a location-based services platform designed to optimize salespersons' routes and efficiency.
"Two years ago, we looked for a tool that would allow us to speed up the application development process in the Java ME environment of BlackBerry smartphones. We didn't find anything that met our needs so we started the JadBlack Project to provide a code generator with a highly visual interface," said INALAMBRIK Director Rogelio Arosemena.
"With JadBlack, the developer defines application components, and the tool generates all the Java ME code to run on either the BlackBerry simulator or on the device. The command set is small but powerful: a few JadBlack command lines represent hundreds of lines of Java code. The developer describes what an application must do, rather than programming it. This eases both development and maintenance," Arosemena said.
Increasingly, mobile applications require an on-device database management system (DBMS) to provide fast, efficient data storage, sorting and retrieval. The JadBlack team tested several commercial and
open source database
products, with the goal of supporting database integration in the tool. It rejected most of these for poor performance, high memory demands, lack of support for secure digital (SD) card storage, and incompatibility with some Blackberry operating system versions.
Only the open source, object-oriented Perst Lite embedded database offered the right combination of speed, portability, flexible storage (including on SD cards) and other features, Arosemena said. JadBlack adopted Perst Lite as its default DBMS and now includes a development copy of McObject's database. With Perst Lite, JadBlack's database integration features include:
* Tables and indexes visually designed in JadBlack's integrated development environment (IDE)
* Record management commands (insert, update, delete, commit, rollback)
* Record key search command (search)
* Fast selection of multiple records using secondary indexes
* Automatic index maintenance during insert or update commands
Perst and Perst Lite are part of McObject's family of powerful small footprint, high performance embedded database software products. The eXtremeDB® in-memory
embedded database
from McObject is used widely in devices including MP3 players, WiMAX base stations, digital TVs, telecom/network communications equipment and military/aerospace technology. Perst is available for Java and .NET, including Java ME, .NET Compact Framework, Windows Phone 7 (WP7) and Silverlight. CA's Wily Technology credits Perst with delivering a shortened development cycle and a ten-fold performance improvement within its real-time Java application.
About McObject
Founded by embedded database and real-time systems experts, McObject offers proven data management technology that makes applications and devices smarter, more reliable and more cost-effective to develop and maintain. McObject counts among its customers industry leaders such BAE Systems, Siemens, Phillips, EADS, JVC, Tyco Thermal Controls, F5 Networks, CA, Motorola and Boeing. McObject, based in Issaquah, WA, is committed to providing innovative technology and first-rate services to customers and partners. The company can be reached at +1-425-888-8505, or visit
www.mcobject.com
.
McObject and eXtremeDB are registered trademarks of McObject LLC. All other company or product names mentioned herein are trademarks or registered trademarks of their respective owners.