Tillamook Country Smoker Announces New Beef Jerky Packaging.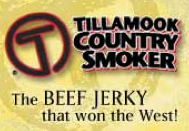 BAY CITY, OR- July 21, 2010 – Tillamook Country Smoker has recently rebranded itself with its newest package transformation. As one of the leading manufacturers of beef jerky, Tillamook's new color scheme and design gives the company package a fresh new look, while maintaining its commitment to outstanding quality. Using bold exciting colors and clear, concise font types, Tillamook Country Smoker expects to boost sales and gain approval from
beef jerky fans
everywhere!
Competition in the beef jerky market can be challenging and Tillamook Country Smoker brings its newly designed beef jerky packaging to the table, upping the ante in the beef jerky ring.
Tillamook Country Smoker has been a family owned and operated since 1975. Family recipes of quality smoked beef jerky and other smoked meats have catapulted Tillamook country Smoker to the forefront of the beef jerky industry. The full line of beef jerky flavors and pepperonis come in bulk and individually wrapped for retail and wholesale markets. Tillamook Country Smoker also offers fundraising programs utilizing Beef Jerky, Pepperoni,
Teriyaki Sticks and Beef Sticks
.
The new beef jerky packaging is available immediately at most major convenience store chains and grocery outlet. Tillamook's premium
beef jerky
is also available at
www.tcsjerky.com
.
Email Tillamook Country Smoker