L.E.A.D.E.R.S.H.I.P. 1ST and RehabAuthority Step Up for Idaho Mentoring Challenge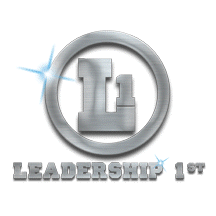 (Boise, Idaho – July 21, 2010) When communities fall victim to youth crime and violence, who steps in when law enforcement and parents are stretched thin? These men do. Meet Derrick Boles and Hakim Hazim of L.E.A.D.E.R.S.H.I.P. 1ST, Jon Strain of Search Ministries and Galen Danielson and Kevin Hulsey of RehabAuthority who make leading and rehabilitating people and communities their business.
Last Thursday, July 15, Boles, Hazim and Strain conducted a four-hour mentoring challenge training with Danielson's and Hulsey's 15-20 staff at RehabAuthority, a physical therapy company serving patients throughout Idaho. The mentoring strategies and tactics built on empowering communities through social wealth-sharing and tangible ways to make a difference.
The L.E.A.D.E.R.S.H.I.P. 1ST Mentoring Challenge, an idea conceived by Hakim Hazim, is a community mentoring program and certification designed to recruit, train and develop community mentors who will in turn address identified issues in their area. Cities can sponsor this personal challenge to business leaders and communities to improve the world through investing in the lives of young people.
Last Thursday's training launches a larger Mentoring Challenge faith-friendly event on January 14, 2011 in Boise with former NFL Pro Bowler Joe Ehrmann as the keynote, of which RehabAuthority is an event sponsor. The event goal is to foster mentoring relationships across the Treasure Valley and help young people become healthy, responsible and balanced men and women at home and in the workplace. The hope is that business leaders across the country will host Mentoring Challenges.
Galen Danielson, RehabAuthority Chief Operating Officer and physical therapist and Rehab Authority CEO and American Physical Therapy Association board member Kevin Hulsey agreed that supporting the L.E.A.D.E.R.S.H.I.P. 1ST Mentoring Challenge was "a natural tie" for their company.
"RehabAuthority operates as a partnership model, as we are in the business of helping people," said Danielson. "We partner with 22 universities across the country that send their physical therapy students to our facilities for six to eight weeks of professional mentorship. Mentoring leaders is our passion."
Derrick Boles founded L.E.A.D.E.R.S.H.I.P. 1ST in 2006 to develop curriculum, leadership trainings and workshops based on these core character traits: Loyalty, Education, Accountability, Discipline, Empowerment, Respect, Service, Honesty, Integrity and Perseverance. With a global vision for growing leaders, Boles commends RehabAuthority for being the first business to invest in the mentoring initiative.
"RehabAuthority has taken a major step in breaking down the perception that business and private sector could have a major impact on their communities. They have started in the most unlikely place…internally," says Boles in his observation of RehabAuthority. "This is why they are leaders in the rehabilitation space. Their leadership understands that it begins with their culture first."
Following participation and certification in the L.E.A.D.E.R.S.H.I.P. 1ST Mentoring Challenge training, Danieslon had this to say:
"The event was awesome. Our staff who attended believed the material presented was first-class and the speakers were passionately driven to see change in our communities. They offered insights into how we can help our communities by starting with small practical steps and then fostering those efforts to grow. For me, the take home message was to reject passivity," expressed Danielson.
Founded in 2006 by Derrick Boles, L.E.A.D.E.R.S.H.I.P.1ST is a national community development organization that focuses on educational initiatives. Based in Nampa, Idaho, the company is committed to engaging current and future leaders in a variety of settings by providing curriculum, leadership training and workshops. For more information, please visit
www.leadership1st.info
.
RehabAuthority is an Idaho-based outpatient orthopedic business specializing in physical therapies serving a range of patients with varying injuries back and neck problems, post-surgery issues, etc. For more information, please visit
www.rehabauthority.com
.