10 Reasons to Travel to Costa Rica: Diane Sieg 'Find Your Grace" Yoga Retreat Inspires Change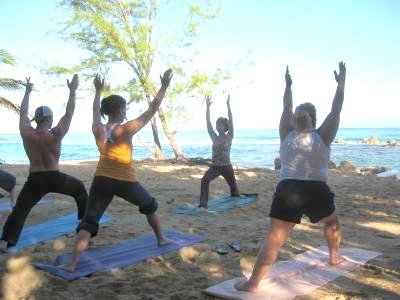 Travel is always a worthy goal in our often overworked and overwhelmed lives, but choosing an inspirational retreat like Diane Sieg's
"Find Your Grace" Costa Rica Yoga Retreat
, January 15 – 20, 2011, can go beyond merely "getting away from it all" to create deeper transformation that endures long after the vacation ends. Sieg, a motivational speaker, author and creator of
the CHAOS CURE™
, has incorporated her popular
30 Days to Grace
yoga-inspired mindfulness program into a rejuvenating eight-day retreat at a secluded beachfront eco-resort on Costa Rica's Osa Peninsula.
"Something about changing your environment and energy on the outside allows your inside passions and perceptions to awaken, renew and revitalize," says Sieg. "Travel to a tropical paradise like Costa Rica releases us from our everyday habits and perspective, creating the perfect opportunity to move from chaos to calm and spark real life change. My January Costa Rica yoga retreat comes at an ideal time for beginning a new year full of intention – and with real take-home tools to make the desired changes last beyond our usual list of New Year's resolutions."
Sieg, who has facilitated retreats for 15 years, shares her top 10 reasons to travel to Costa Rica with her Find Your Grace yoga retreat this January:
1. Totally unplug from your "normal" life
2. Practice all-level yoga twice a day, or not at all!
3. Step into the flow of grace and set your intentions for the new year
4. Partake of daily adventure opportunities that include horseback riding, jungle hikes, surfing lessons, Thai massage, farmers markets, spa treatments and poolside reading
5. Enjoy an intimate venue with private pool and beach
6. Experience a different country and culture in a group setting
7. Exchange traditional "New Year's resolutions" for a chance to start your new year full of grace and intention
8. Indulge in four fabulous locally and organically sourced meals a day with dessert every night
9. Be supported by like-minded people, yet have as much solitary time as you choose
10. Have a relaxing and rejuvenating retreat to look forward to in January, through the hectic December holiday season
The Diane Sieg Find Your Grace Costa Rica yoga retreat, January 15 – 22, 2011, offers seven nights lodging (double and single occupancy available) and four fresh prepared meals plus dessert daily at the beachfront Boca Sombrero Resort on Costa Rica's Oso Peninsula. Daily schedule includes two Anusara-inspired yoga classes and motivational learning opportunities including the Seven Habits of Extreme Self-Care. Optional activities range from surfing and horseback riding to massage and spa treatments. A special early-bird rate of $1,199 is available through August 20, 2011. Full rate is $1,500. Participants arrange transport to and from San Jose, Costa Rica; full details available at
http://www.dianesieg.com/speaking/retreats
.
From the chaos of the emergency room to the calm of her yoga mat, professional speaker, published author, life coach, and certified Anusara yoga teacher Diane Sieg provides lifesaving strategies, from her STOP! Living Life Like an Emergency book and keynote to her inspirational 30 Days to Grace program and CD. With life lessons learned from over 20 years working in the ER, Sieg demonstrates how to move from chaos to calm through daily mindfulness that creates health, energy and real change. For more information, visit Diane's website,
http://www.dianesieg.com
, read her CHAOS CURE
blog
, or follow her on
Twitter
(@dianesieg).