Graham & Brown's new Shape & Form Collection Adds Textured Wallpaper in Unique Ways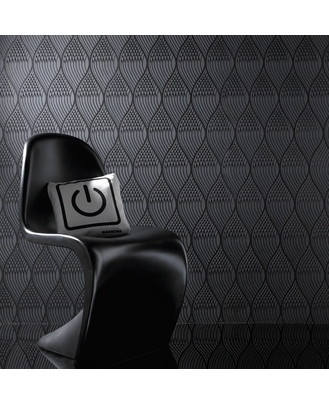 Shape & Form is the latest
modern wallpaper
collection to emerge from Graham & Brown's design studio. A collection of geometric, architecturally-inspired textured wallpaper featuring graphics embellished with glossy finishes, metallic sheen and fine tones, the designs explore the way in which light and shadow affect our perceptions.
"We wanted to push the boundaries and create a dramatic, masculine collection," said Mark Radford, Director of Design & Marketing at Graham & Brown, the leading
designer wallpaper
retail company. "This collection plays with perceptions, conjuring optical effects and offers homeowners a dimensional alternative for wall decoration."
Similar to how a building can appear softer or more defined depending on factors such as the time of day, natural light, and shadows cast, Shape & Form
textured wallpaper
adds dynamic depth and tone to walls which change with the lighting of a room.
Reflecting its architectural inspiration the collection's color palette includes seven block shades – crisp white, muted cream, sleek slate, stark black, midnight purple, and terracotta red. The range includes the following seven designs:
Checker – Taking its inspiration from modern architecture and a mix of contrasting textures and surfaces, Checker features multi-layering textures and shadows for an exaggerated 3D effect
Cubix – The Cubix design embraces a classic geometric box pattern, using fine texturized lines to accentuate and embellish the pattern for a multi-dimensional finish
Concave – The elaborate Concave design is a contemporary take on a decorative double curve, featuring gloss and metallic effects for an illusional finish which dances across the wall
Ephemeral - A flowing geometric design, Ephemeral combines texture, dots, and shadows to create a fluid-brick effect
Mensa – Reminiscent of retro rounded television screens, Mensa's simple geometric layout is brought to life by two contrasting texture depths creating a spherical effect for walls
Empire – Inspired by the ancient art of paper-folding and the growing trend for origami-esque products in the home, the gentle folding pattern of Empire adds a dash of metallic and gloss to subtly enhance and lift the pattern off the wall
Ethos – Evocative of the luxurious moiré fabric finish in which a gentle waving pattern is balanced with a shiny finish, the Ethos design mixes matte and gloss with an intricate circle formation to create a sinuous, meditative design
About:
As a global leader in wall decor, Graham & Brown is recognized as a powerful creative source stretching the way people think of pattern and color. Through a combination of innovative techniques and ever-improving design skills Graham & Brown's mission is to inspire people to think differently about their homes.
http://www.grahambrown.com/us/wallpaper-collections/Shape%20&%20Form