Domain Cabinets Direct Launches New Showroom For Cerise Shaker Cabinets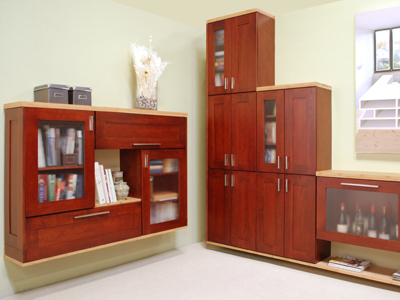 New York, NY - Domain Cabinets Direct, the leading provider of
ready-to-assemble and custom cabinets online
, today announced the launch of the company's newest showroom featuring its standard shaker cabinets. This new showroom is built entirely from Domain's ready-to-assemble Cerise Shaker standard rta cabinets, which were designed for use in kitchens and bathrooms, but were used instead to create a home office space. A spokesperson from Domain said that the company set out to create a showroom space that was not a kitchen or bathroom, in order to showcase their product's versatility. This project was also a response to positive customer feedback, in which Domain's customers describe creative applications of the various ready-to-assemble cabinetry products that Domain Cabinets Direct offers.
The result of Domain's efforts is a unique and inviting office space measuring 10' by 14' consisting of two wall units and a desk. The desk features a custom bamboo countertop for the desktop, and standard Drawer Base shaker cabinets with industrial rubber swivel wheels for convenient moving. Because the
Cerise Shaker RTA kitchen base cabinets
come with unfinished backs, two solid wood doors from a 15" wall cabinet and one 3" Base Filler were used to finish the back surfaces, creating a free-standing desk with a 360-degree finish.
The larger of the two wall units, which Domain says could also be used as an entertainment center in a living room application, comprises eight wall cabinets, each 24" wide by 30" high, plus four glass-door cabinets mounted in various configurations. Two of the cabinets are mounted sideways, utilizing pneumatic lifts to hold the doors open and allow for smooth access in this unconventional mounting configuration. Again bamboo countertops are used, though Domain stresses that other materials such as stone could be used with equal success.
The deceptively simple smaller wall unit comprises four RTA cabinets configured into a uniquely organized solution. It includes an 18" by 18" center space that can be used for decorative objects, and a 60" top shelf space finished in bamboo. The sides are finished with solid wood doors. Because both wall units are mounted on the walls, they make cleaning and changing flooring materials easier.
Domain Cabinets Direct's new
Cerise Shaker cabinet home office showroom
can be viewed at
http://www.domaincabinetsdirect.com/showroom/CeriseShaker/
About Domain Cabinets Direct
Based out of New York, NY, Domain Cabinets Direct is the leading provider of premium quality solid wood RTA (Ready-to-assemble) cabinets for kitchens and bathrooms. Domain's uniform quality control process during manufacturing assures the highest possible quality.
Email Domain Cabinets Direct