WEIGHT WATCHERS SAYS 34° CRISPBREAD ROCKS!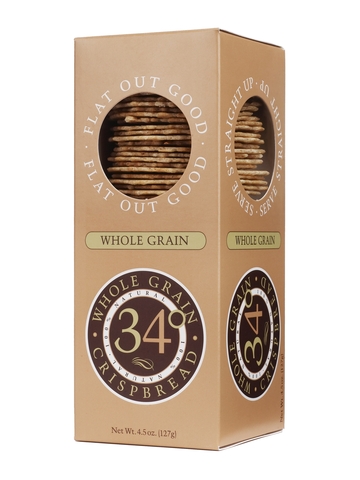 Denver, CO, August 5, 2010 -34 Degrees, the Denver-based specialty cracker company, is pleased to announce that Weight Watchers has named 34° Whole Grain Crispbread one of this year's "10 Foods that Rock Our Tastebuds."
Here's what Weight Watchers had to say about 34° Whole Grain Crispbread: "These Crispbreads from 34° are, first and foremost, zero POINTS values per 9-cracker serving. With a delicate but wheaty, wafer-like texture, they can be paired with anything from cured meats and light cheeses to peanut butter and jelly."
We say that 34° Whole Grain Crispbread is a wholly delicious snack the entire family will enjoy. These light and crispy crackers are made with just a handful of the highest quality ingredients, including 100 percent whole grain flour. We bake them, with no added oil, until they're super-crispy and subtly toasty. They're the thinnest, crispiest cracker around, and they're a healthy snack option.
Take a look at the nutritional info for our 34° Whole Grain Crispbread:
9 crackers in each serving
35 calories
0 grams of fat
7 carbs
3 ingredients, including 100 percent whole wheat flour
A whole lot of toasty, tasty flavor
34 Degrees is also excited to announce the introduction of our 34º Whole Grain Crispbread single-serve snack packs, available at retailers nationwide this September.
To read more from Weight Watchers, visit:
www.weightwatchers.com/util/art/index_art.aspx?tabnum=1&art_id=88801&sc=3030
About 34 Degrees
Our story is simple. We wanted to make a light, crispy cracker that would pair perfectly with the world's favorite cheeses. How do we do it? Using a handful of natural ingredients, we bake our wafer-thin crispbread without oil. The result is a deliciously crisp, subtly toasty cracker that makes a great snack any way you serve it. The Denver, Colo.-based 34 Degrees makes six varieties of 34º Crispbread that are available at retail stores nationwide: Natural, Rosemary, Sesame, Cracked Pepper, Lemon Zest and Whole Grain. For details, visit
www.34-degrees.com
.