Widgets, Wizards, and Graphical Dashboard Drive Touch Screen Flexibility in ACOM Health's RAPID Documentation 6.0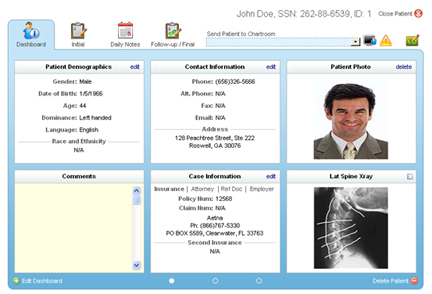 ATLANTA, Georgia, August 9, 2010 – ACOM Health today launched Version 6.0 of its RAPID Documentation
Chiropractic Software
with intelligent software wizards and widgets and a graphical dashboard that combine to dramatically increase accessibility and visibility of patient case files and simplify display and entry of diagnostic and patient notes, images and management information, it was announced today by Division General Manager Mark Firmin.
The key objective in architecting the new version was to eliminate complex and/or time-consuming operations while enhancing the overall user experience, Firmin said, noting that doctors usually can obtain a visual snapshot of a whole case at a glance on the very first screen. Accordingly, the day-to-day treatment process becomes faster, easier and better organized.
"Doctors don't want or need to deal with the technological underpinnings of their software; they simply need to know that it works, that it meets the highest professional and regulatory standards, and that it is easy to use," Firmin said. "In Version 6.0 we answer those needs with the most comprehensive and user-friendly chiropractic software solution on the market. It fulfills every identified need of the chiropractic office, while also allowing plenty of freedom to accommodate doctor preferences and configuration options."
The first thing doctors will notice is the new look and feel of the software, he said, noting that the graphical elements do most of the navigational work as well as automate the recording and mutating of the electronic notes and supplemental information.
"Simply clicking on a patient's name, social security number or case number instantly brings his/her case to the graphical dashboard, with the on-screen widgets then providing one-click access to everything in the case file," he said.
While the
documentation software
comes with customizable pre-configured widgets, it also allows the doctor to create, modify and store up to three six-widget pages for each patient file, with no practical limits on the kind of content represented – text, charts, photos, diagrams, X-rays, helpers, and more. Moreover, because the new version of the software moves so extensively into the graphic information display environment versus conventional text presentations, ACOM Health strongly recommends that doctors consider using it with touch-screen all-in-one computers in their offices.
"RAPID Documentation 6.0 is ideally suited for these increasingly affordable new devices, which not only can provide unprecedented convenience for the practitioner, but also can enhance the quality and clarity of doctor-patient communication since so much detail is presented visually."
Helpers such as outcomes assessments can be created and displayed as widgets, enabling the doctor to track patient progress graphically, visit to visit. The software incorporates an extensive image library, allowing graphics to be created interactively on a muscle or skeletal diagram, for example, with brief labels indicating the location and severity of points of pain. Doctors are not limited to the on-board suite of images; rather, any image a doctor has, including X-ray images, can be adapted as widgets and placed in the patient file for on-screen display.
The new version of RAPID Documentation is available immediately. ACOM Health guarantees that the software will be certified for reimbursement of Medicare charges under the
2009 HiTech healthcare stimulus plan
when purchased as part of the RAPID Complete product suite. Existing customers under maintenance contracts can request an upgrade at no cost by visiting
http://www.acomhealth.com/customers/
About ACOM Health Division
ACOM Health serves chiropractors with software and services that enhance efficiency, cut costs, and increase practice revenue. ACOM Health's RAPID Chiropractic Software Suite consists of Clinical Documentation and Notes; Patient Education; Home Exercises; and Chiropractic Practice Management for billing, scheduling, patient management and detailed reporting. ACOM Health's Chiropractic Services team helps practices ethically and legally maximize their billings and collections, while streamlining practice operations. For more information, call 866-286-5315 ext. 217, email
acomhealth@acom.com
, or visit
http://www.acomhealth.com