Cappuccine Launches NEW "Red Velvet Frappe"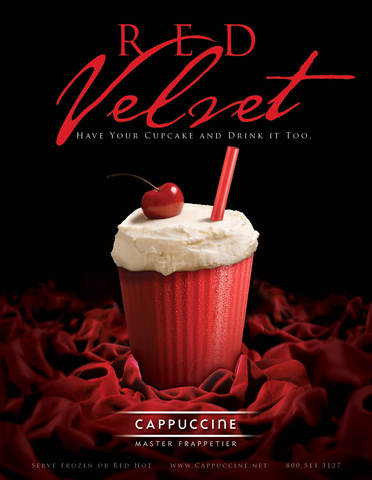 Cappuccine's CEO and Founder, Michael Rubin, is proud to announce the newest addition to their long line of Award Winning first to market concepts, with the release of their Red Velvet frappe' mix.
Hitchhiking on the popularity of Red Velvet cake and cupcakes we think this product will create great excitement to the Specialty Coffee marketplace. Cappuccine was first in the World to market super-premium frappe' mixes. Other Cappuccine firsts have included; Vanilla Frost Smoothie Base, Extreme Toffee Coffee with real SKOR bits, Caramel de Leche, White Chocolate Symphony, Frosted Cinnamon Bun and many others. Now added to the list; a RED VELVET FRAPPE'.
"When made frozen or hot and topped with a whipped cream cheese we think this product will be our next home run." says Rubin. "Our goal is and has been to market products that resonate with current trends in the marketplace. Our new Red Velvet hits the nail right on the head."
:: About Cappuccine ::
Cappuccine products are known as the worldwide quality leader wherever Frappes are sold. Pioneering the Blended Iced Coffee market, Cappuccine's CEO and Founder, Michael Rubin, created the first super-premium frappe mix. Our dedication to creating only the very best tasting products found anywhere has been acknowledged through 9 National Awards from both the Specialty Coffee and Gourmet Food industries. You'll find Cappuccine in all corners of the world where espresso and blended coffee is sold. Our products meet the most discriminating quality standards, including Kosher and Halal certification. Cappuccine's wide variety of packaging and flavor choices translates into real excitement, for coffeehouse owners looking to create a world class frozen beverage program or for distributors of specialty products looking for a great selling, high margin product line that consumers love to drink.
For more information, please visit (
www.cappuccine.net
)